Saint Patrick's Day is quickly approaching and, I must admit, it is one of my favorite Holidays. Being mostly Irish, I was raised with an attitude of pride on this day. The problem for me is that basically, I dislike green clothes. I don't own any and I rarely buy green fabric, even for my dolls. I do use green, with red, for Christmas dresses, but that's really the only time I sew with green. So the only photo of my dolls that I have to share with you this week is one of my Ginny dolls. Technically, she's not a St. Patrick's Day doll, she is one of their Calendar series, for the month of May. But, as you can see in the photo below, she certainly has the coloring to be an Irish Lassie.
For those of you who want a true Irish Doll, several doll companies do sell Irish dolls for St. Patrick's Day. They are easy to find by simply searching for "St. Patrick's Day dolls."
There are also dresses available for 18 inch dolls, both the slender,
Magic Attic
type and the somewhat larger
American Girl
types. They are available, online, from both the doll companies and Amazon..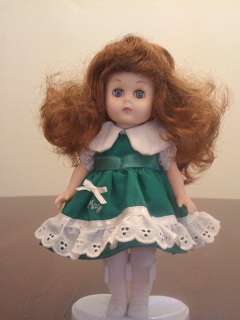 Many of the patterns I have designed for dolls here at the Doll Making Site will work if you wish to make a dress yourself. At this time of year it is easy to find Irish themed fabric at most fabric stores. It would be a cute idea to make matching dresses for an 18 inch doll and your favorite little doll lover. I found an adorable pattern for fancy girl's dresses that is available in toddler and girl's sizes from
Simplicity
that would look lovely with
this
dress for a doll. The pattern is
Simplicity
pattern number 9497.
I hope this has got your creative juices flowing. I'd love to see your St. Patrick's Day creations, consider sharing a photo with us in the Doll Making Forum.
Happy Saint Patrick's Day!
Making and Dressing Cloth Dolls
Ebook with patterns and instructions to make 5 cloth dolls as well as chapters on general doll making techniques.The book includes 21 inch Lalena Doll, 21 inch David Doll, Bear Dolls, 9 inch Destiny Doll and 15 inch Annie Doll, all together in one handy book. 53 pages.
Making and Dressing Cloth Dolls
.