Eros had fallen in love with Psyche after he placed a curse on her that his mother, Aphrodite, demanded. Now he would have to have faith in that love and trust that Psyche, too, would have faith. After sprinkling Psyche with magical sweet water, he gazed once more at her lovely face, so sweet in slumber, then he left her. Aphrodite was joyous with her victory over Psyche. However, Eros was devastated and knew he had some thinking to do on how to save Psyche from a fate worse than death.
It was not long before word spread throughout the lands that Aphrodite had claimed Psyche as an enemy and rival for the most beautiful woman. Psyche had done no wrong, but in the eyes of Aphrodite, Psyche had stolen all the worshippers and admirers -- causing them to turn from the sacred altars of Aphrodite, the mother goddess, to worship herself. All would-be suitors who once admired Psyche turned away from her in fear of how Aphrodite would punish them. The king and queen, Psyche's parents, could not understand why their two older daughters, Megalometis and Baskania, had already married when Psyche, the most beautiful and fairest of them was shunned and had no suitors, no one asking for her hand in marriage. In great concern, they asked the Oracle at the Delphi of Apollo what they should do. Psyche felt no fear and still did not take any glory in her beauty. Her glory was the love and peace she felt within for she knew not whom.
The message from the Oracle was more distressing than the the king and queen could ever have expected. They were told they must take Psyche and bear her to the mountain top dressed in the finest bridal garments and leave her there for the monster that all heaven, hell and mortal men fear -- and this ugly, wicked monster would claim her as his bride. When the words of the Oracle were known, all within the kingdom mourned for the lovely maiden and lamented her fate as if death had claimed her already.
To disobey the Oracle, the king and his entire kingdom would be destroyed. Psyche was horrified and scared beyond words, yet would not allow her father and his kingdom to be destroyed. Obediently, she allowed her maid servants to prepare her in all her bridal finery.
Like a funeral procession, rather than a wedding march, Psyche was taken on a litter to the mountain top and left there alone. Her fears grew ever more worse after her parents, who could not bear to look at her, turned and left with all the mourners.
As night came on, she lay there,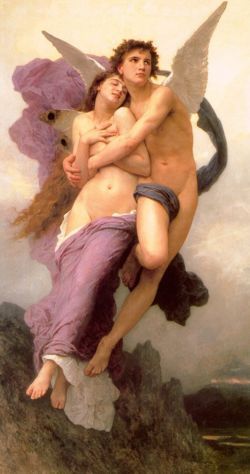 startled at each sound, waiting to be claimed, hoping she would die before the monster found her. The wind caressed her, yet she felt nothing but fear till blessed sleep overcame her. She knew not, when in her slumber, that Zephyr, the wind who had caressed her brow, gently picked her up and cradled her in his arms. Zephyr, at the request of Eros, carried Psyche away from the mountain and gently lay her down in a meadow of the sweetest flowers in the valley.
~ ~ ~ ~
Author's note: Please see "Psyche And Eros: A Story Of Trust" at the related link below for the third part of this great love story. Thank you.
Editor Picks:
,