As you may know if you've read my bio, I work for a local parish in the front office. Recently I attended a reconciliation preparation workshop, where most of those in attendance were children preparing to make their first reconciliation and their parents. One of our former associate pastors was the guest presider and speaker. He shared with us his story of reconciliation, and his explanation of sin and reconciliation was excellent. Some of the following is a reflection of what I heard at this service.
Sin
What is sin?
Sin is separation from God. It's also separation from community (family and friends) and/or self. It's darkness. It's a space that widens when we argue with a loved one and distance ourselves from them. We can be seated at the end of one table and they might be at the end of another table. That distance between us is like sin.
What is the origin of the word sin?
It originated at the Greek Olympics in archery. When the arrow missed the bull's-eye, someone yelled "sin." Sin is when we miss the target.
Reconciliation
Reconciliation bridges the gap left by sin. We are brought back into the light and closer to God, to community and to ourselves. Most often it is much easier to seek forgiveness from God and community than to forgive ourselves. Once we truly repent for our sins, God forgives us and forgets. Period. It's gone. Our slate is wiped clean so to speak. We are renewed and refreshed in our relationship with God. We are walking brightly in the light with him, and we are close to him again. Oftentimes it's not so easy for us to forgive, be it others or ourselves. When we forgive, we lift a burden off ourselves and renew a relationship that was hurting. We let go of anger, hurt, stress and separation. When we truly forgive ourselves and reconcile with ourselves we can more deeply love ourselves and, in turn, more deeply love our family and friends as well as God. By not forgiving we are mostly hurting ourselves. Think of the Lord's Prayer.
And forgive us our trespasses as we forgive those who trespass against us…
We recite this every time we celebrate Mass, and hopefully pray it often. God forgives us as we forgive others. By hanging onto grudges, resentment and anger towards those who trespass against us, we are deepening our separation between not only those who've hurt us, but also God. We add unhealthy stress to our lives and widen the space between ourselves and our target. The target of living in unison with Christ, living as Christ commanded us to live.
And I'm guessing "others" can include "ourselves." If we trespass against ourselves by not forgiving ourselves, how can we truly "Let Go and Let God?" How can we completely open ourselves up to the graces God has in store for us? How can we clearly see his plan for us and be all that he envisions us to be?
Peace in Christ,
Melissa Knoblett-Aman
Resources for Reconciliation
From Getfed.com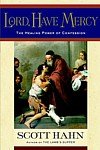 Lord Have Mercy by Scott Hahn

Catholic Parent Know-How - Preparing Your Child, First Reconciliation

For more Reconciliation Resources, visit Getfed.com