Whenever I am in a department store, no matter what I am actually shopping for, I always have to cruise the toy department to check out the dolls. Not only are dolls a passion of mine and a joy to look at, but I like to stay current on what is available and popular.
I have to admit that a very popular line of baby dolls right now just leaves me cold. With apologies to those of you who like them, the Baby Alive dolls are just not to my liking. I don't care for their facial features, so no matter how well they may or may not be made, I'm not interested..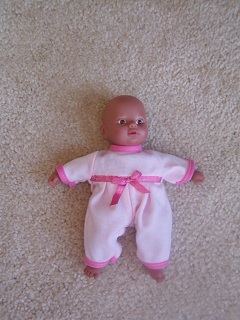 This past week I was perusing the dolls in a large, discount department store when the newest addition to my collection just called to me to take her home. She was the last one left, all alone in the display box. She was supposed to have a hat, but they were all gone, I didn't care. I just had to have her! So, along with my other, completely unrelated purchases, came my 8 inch baby doll. These tiny baby dolls just speak to my heart, on so many levels. The last doll I was given for Christmas, when I was in seventh grade, and Mom said I was getting to big to be asking for baby dolls, was a mini.
As you can see in the photo to the right, she has an adorable face and bald head. She has 3/4 vinyl arms and legs and her body is made of a polyester and cotton blend fabric, filled with polyester stuffing and pellets to give her a little weight but still make her soft. She is 8 inches tall and is completely huggable. She came in her pink outfit and now I have to get busy making a new wardrobe for her. My doll is not a famous name brand but there are 8 to 9.5 inch baby dolls available by Berenguer, Gotz and Corolle which are also lovely.
These little dolls are perfect for a toddler's first baby doll, they're soft and easy to carry, with painted on features for safety. But I think they're just as perfect for more
mature
collectors as well.