Sharing the month with an avant garde
Berlin Fashion Week
, the one-of-kind
culinary tour of the globe
,
International Green Week
, could not be more different.
Going Green
has in Germany developed into a way of life and economics, making one of the country's major priorities a healthier environment, both globally and nationally, while the German capital Berlin is a city with many faces and endless possibilities. Included in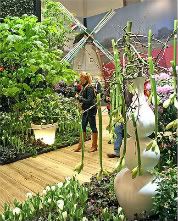 its attractions are the diverse exhibitions and trade fairs, ranging from fashion to consumer electronics, which over the course of a year offer something for all interests and tastes, and every January it is the turn of Berlin's
International Green Week
, Gruene Woche.
The worlds biggest fair for
food, agriculture
and
horticulture
, has 1,600 exhibitors from 56 countries, is attended by politicians and agricultural ministers from around the world and often used to establish a brand image and test-market food and luxury items, but it originated as a local produce market. Pulling together in one place the horse shows, exhibitions and seed and plant markets that up until 1926 had been scattered over Berlin.
From its launch the fair aimed to introduce up to the minute products, trends and themes of the time, ranging from food and renewable resources to scientific livestock breeding and farm implements. The first fair featured a four metre high tractor, its metal tyres on wheels higher than a man and symbolising the beginning of agricultural mechanisation. This was followed two years later by a horse vacuum cleaner which took away the hard work from grooming horses still working in fields, and 1966 saw the appearance of a twelve metre high tower hot house designed to make more efficient use of increasingly limited space.
Moving with the times for over a decade the fair has been living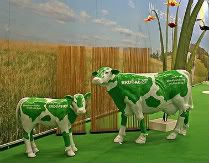 up to its
Green
description, the name apparently originally thought up by journalists when it began in 1926, and there has been an increasingly strong emphasis on renewable raw materials, environmentally friendly methods of farming and organic produce. Salesmen now market everything from domestic solar panels to heat stables and sheds to worm composters and rapeseed powered cars.
The last years have also brought about the introduction of products from countries that, with the assistance of help organisations, have for example exchanged growing opium poppies for the roses that supply rose oil to perfume companies. While the
Fair Trade Farmers
extensive selection of fruit, vegetables and consumer products, such as chocolate, dried fruits, coffee and sugar, are already offered in most German supermarkets. All their goods are produced under conditions that are not only beneficial for the environment but do not put all the profits into the hands of large conglomerates, using instead a system
fair
to workers and producers who in addition to a just payment have access to medical care and an education.
And of course there is a Children's Fair, where the young and curious can find out about agriculture the 'painless way', through crafts, painting, playing and also with a 'try out' on a real tractor.
Show halls with exhibitors wearing traditional dress offer foodie specialities from their countries, which now include
bioprodukte
, organic food, and
The Fair Trade and Organics
area of the Exhibition food court tends to be over run with custom. Queues wait for a free table where
everything on offer, from the beer and coffee to the sausages, salads and soup, are organic; food that has been grown and produced without insecticides, bioengineering, growth hormones or antibiotics.
Around the food court stalls displaying organic goods range from artisanal bakers and spice dealers to vegetable, ice cream and soap sellers, with packaging that is of course chemical free and biodegradable.
Problems of environmental pollutants entering the food chain at all levels, as by-products of industrial methods or natural processes such as forest fires and volcanic eruptions, are widespread worldwide, and there are many national and international programmes in place monitoring the various food supplies but nevertheless, even in a well regulated country such as Germany, sometimes situations arise that sap confidence in conventional forms of farming.
In addition to which price war pressure in shops and supermarkets, and the subsequent slashing of profits and cutting of costs, can lead to lower standards for produce.
Although traditional, and substantial, regional dishes are still very popular throughout the country, culinary diversity and health consciousness are now a part of German cuisine, with Germans having acquired international tastes as well as an interest in healthy eating, which has led to a growing demand for organic foods and environmentally
friendly agricultural methods.
When those journalists thought up
Green Week
in Berlin to describe an agricultural based fair in 1926 Germany, they no doubt had
green
as the colour of nature in their thoughts, however if the current trend continues then eventually
Berlin's International Green Week
will have a completely different, and perhaps for the sustainability of the world an even healthier meaning.
Photos Internationale Gruene Woche, courtesy gruenwoche.de, 70 Pfennig stamp issued by Deutsche Poste to commemorate 50th Anniversary of Green Week in Berlin, skanned by Nightflyer, via de.Wikipedia
The Eyewitness Travel Guide for Germany is absolutely the best travel book available for anyone who wants to visit the country. Either from the comfort of their armchair or in person. With stunning illustrations and descriptions it covers everything any traveller would ever need, including a comprehensive section on all that Berlin can offer a visitor. It is written in a way that makes it fascinating to read for anyone interested in Germany, and is my well used personal favorite.

And you can follow German Culture on Facebook