Aphrodite was very discouraged that Psyche had been able to complete all three tasks she sent her on. Wanting to be rid of the determined young woman forever, Aphrodite sent her on the most dangerous journey, to the depths of the underground, the home of Hades. The goddess did not want to see Psyche and Eros reunited.
She gave Psyche a small vase and told her to take it to her niece, Persephone, Queen of Hades, in the infernal regions. Psyche was to ask for a spray of the fountain of youth to refresh Aphrodite for the loss of seven days of beauty for tending to Eros. Psyche now lost any hope she had gained in believing that Eros was near in spirit to protect her. Aphrodite felt better, however, knowing that she sent Psyche to the land from where she would never again return nor see the sun.
Psyche found her way to a tower above the abyss that led to the infernal regions underground. She sat by the tower and contemplated flinging herself down to Hades' kingdom from the tower. The tower spoke to her and told her about another entrance that would lead her to the palace of Hades. She must carry two coins in her mouth for Charon to ferry her over and back across the river of the dead. The tower told her to be silent during the journey and ignore any calls for help -- all these calls for help would be from apparitions doomed forever there and will only snare her to become one of them. When she came to the three-headed dog, she was to give it half the barley bread to calm it so she could pass.
Psyche followed the instructions carefully and finally came to an entrance that led directly to Persephone, sitting on a throne by Hades. She was received graciously and offered food from the banquet table. Psyche refused just as graciously, for the tower had told her if she ate any food from the royal banquet, she would not be able to ever leave.
Persephone filled the vase with the gift for Aphrodite. She remembered her own misfortune as a young maiden and was kind to Psyche.
Psyche returned to the way she had come and followed the same instructions. When she was on her way to Aphrodite's palace, she pondered about the contents of the vase and stopped. She was weary, weak and knew that her own beauty was fading from all the travels and dangerous tasks she had been assigned.
Why should I not benefit from this gift to be youthful and beautiful for my husband when I find him?
she wondered.
Psyche took the lid off the vase. A deadly odor drifted out, engulfing her. The vapor was not of beauty and youth, but heavy sleepiness and forgetfulness. She sank to the ground into a state of death-like sleep, surrounded by the vapor.
All during the time that Psyche had been struggling to stay alive, find her husband and complete the dangerous tasks assigned to her by Aphrodite, Eros had been lying in bed healing. He now arose and found that Aphrodite had imprisoned him. A cage had been built completely around his chamber. A butterfly came in through a window and told Eros of Psyche's deep sleep. Eros escaped through the same window and flew swiftly to his beloved.
He found Psyche in the sleep of near death and quickly removed the vapor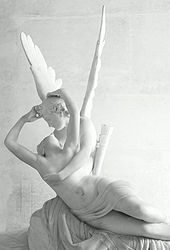 of slumber from her eyelids, restoring it to the vase. Then he touched her with the tip of one of his arrows, and she came back to life. He awakened her with a kiss -- Psyche opened her eyes and looked upon the beloved face she had been seeking. He told her that the vapors of youth worked only on gods and goddesses and was fatal to mortal beings. As her held her in his arms, he chastised her gently for being so curious and opening the vase.
Eros told Psyche to continue her task and take the vase back to Aphrodite. He said he must leave her for awhile and take care of things for them. He kissed her again and flew up to Olympus to speak with Zeus and present his cause.
Psyche cried as she watched her beloved once again fly away from her. She knew her beauty and energy had faded and wondered if he would still love her. She got up and went to a stream to freshen herself. As she sat down and leaned over the water she looked at her reflection and was stunned. She was not a maiden of faded beauty, but more beautiful than ever. She was overcome with joy and happiness. She was so elated she felt as if she could float in the air. Her whole being was transformed into a radiant and glorious woman. She felt so light as the transformation continued and two butterfly wings, so marvelous and iridescent, appeared on her shoulders.
Mighty Zeus listened to the pleas of his beloved grandson, Eros, and bent to kiss the young god. He told Eros he would make his wishes come true.
Zeus at once ordered an assembly of all the celestial beings. In short time the great hall was filled with gods and goddesses. On his way back to earth, Eros met Aphrodite coming into the assembly. He told her that if she continued in her pursuit to banish Psyche, he would leave Olympus to be with his beloved. To be with Psyche in Tartaros would be far better than to be in Heaven without her he told his mother.
When Eros found Psyche, they embraced each other with passion. She told him she had delivered the vase to Aphrodite and was dismissed with disdain, for the vapors had lost their magic. Eros told her not to be concerned about his mother, for the Father of all gods was his ally. He put his arm around Psyche and together they flew to Heaven. When they arrived at the throne of Zeus, they stood before him together.
Zeus took his throne and spoke to the assembly. He said that Eros, being the youngest of the gods and the most frivolous, with an impulsive nature, would highly benefit and mature properly if he assumed the responsibility of marriage and his own household -- therefore, as Eros had already chosen Psyche as his wife, the marriage was blessed and validated as legal. Zeus then decreed that Psyche was to become an equal in the Olympian circle of deities. Psyche and Eros were reunited in divine love and happiness.
~ ~ ~ ~
Author's note: Thank you for reading my articles on Psyche and Eros.
Image Credit:
Psyche Revived by Kiss from Eros
Editor Picks: