In Germany for
St. Martins Day
lantern processions and all types of
other occasions it is fun, and part of the excitement, for children to make their own lanterns.
Paper Lanterns
are very easy to make from a decorated or "cut out" paper cylinder attached to the base of a round box, the lid of the box cut into a ring, then fixed to the other end of the cylinder and a carrying fixture added.
They look festive and attractive set out on a flat surface, however combined with a burning tea light even the slightest movement can mean that they are not always safe to carry around.
Here are easy instructions for two quickly made
safer
and easily decorated or embellished lanterns which are popular in Germany.
INSTRUCTIONS FOR A JAR LANTERN
A large (750 liter, 25 fl.oz) jar (a largish jar is fun to decorate but it must still be light enough to carry)
Craft Glue or Paste
Paint or Glue Brush
You can simply decorate it with autumn leaves that are pasted on, or with different paper shapes in which case you will need:
Papers: Assorted colored or white transparent paper, such as Tissue or Cellophane
Optional Black Craft or black non transparent paper
Necessary for both types of decoration:
Wire: Florist wire, wire coat hanger which will need pliers to secure
Wool, thin string or old gift wrapping ribbon
Blu-Tack or candle
Tea light
Roughly tear about one inch, 2 cm, 1 inch, square pieces of transparent paper, mixed or one color, until there is a stack large enough to cover the jar plus extra to allow for overlapping. It is fun to experiment with different color combinations.
Brush craft glue onto jar and start to attach and overlap the scraps of paper, brushing glue over any pieces that are not completely attached.
Apply a thin coat of glue all over the paper on the jar and allow to dry.
The lamp decoration is now finished and it is possible to go on to the second stage of attaching the carrying wire.
Tie wire firmly around rim, if using thin wire it should be passed around the rim several times.
Make a semi circle handle, again to make it stronger using several intertwined layers if using thin wire, attach securely to wire around the edge of the jar.
The handle is more comfortable to hold if wool, string or gift wrapping ribbon is bound around the handle, and it can then be continued to cover the wire around the lip of the lantern.
Press a piece of Blu-Tack to the bottom of the lantern, or an adult can melt some candle wax, to securely attach a tea light, now your beautiful, and safer, lantern is complete.
Attached firmly to a stick, or held in the hand, you and your lantern are ready to go,
ENJOY
A Silhouetted, or Stained Glass Window
, version of the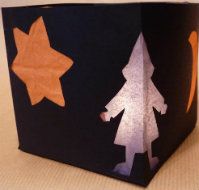 "jar lantern" can be created just by adding a cut out piece of black paper or thin card paper.
Once the decorating and handle stages are completed take a sheet of black paper large enough to go around lantern plus narrow overlap, fold lightly into a concertina and cut out shapes on the folds, or under supervision and using a craft knife cut out a design.
Place over completed jar lantern to see effect. Change if necessary otherwise brush glue onto the remaining solid pieces of black paper and stick down leaving narrow glue free area top and bottom and stick to lantern, this makes a nice edge, and adding more glue to the pieces of overlap as well as under them, press firmly together while fixing them to the body of the lantern.
INSTRUCTIONS FOR A BALLOON LANTERN
Balloon
Colored tissue paper
Brush
Craft Glue or paste
Bowl
Wire or string
Tea Light

Candle for candle wax or Blu-Tack
Blow up balloon and place base in bowl or box so it remains stable.
Tear up pieces of colored paper into a mixture of sizes and shapes, although not too large. Torn rather than cut paper looks better on the completed lantern.
Brush balloon with craft glue, and stick random pieces of tissue paper all over it until completely covered.
Hang up and allow to dry.
Repeat this process three or four times, the shape will then remain fixed and solid.
Burst the balloon and remove, punch two holes, one on either side, just below the edge of the paper mache free area where the balloon has been supported by the bowl. Pass wire or string through holes to make a handle.
Using melted candle wax or Blu-Tack, attach a tea light securely to the base of the lantern.
If fastening to a stick make a loop in the wire to encircle it, and secure firmly before carrying.
Now you have a finished lantern that will give out a shimmering light.
Balloon
and
Jar Lanterns
made only with pieces of white paper which has then been painted with motifs, patterns or figures is also effective. While an alternative is a lamp where two or three large leaves, pressed dried flower heads, or cut out designs from black paper, have been pasted onto the paper covered lantern
after the first coat of paper squares has dried
. This is covered by three or four further layers of paper and glue and gives a really effective end result.
Have Fun and Be Safe with your Lanterns
For topics in the news

And you can follow German Culture on Facebook