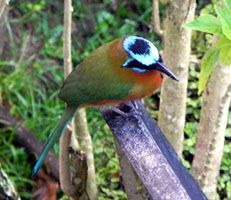 A few years ago I had the opportunity to spend several days birding in Trinidad at the Asa Wright Nature Centre (AWNC). What a fantastic experience! Trinidad, along with Tobago, are located just 10 degrees above the Equator, only miles from Venezuela. The Asa Wright Nature Centre is located at 1,200 feet, deep in the mountains of Trinidad's Northern Range. The AWNC is tucked into the cool, lush, rain forest heights of the Arima Valley. It is one of the first, and most successful eco-tourism stories in the world. Today, over forty years later, Asa Wright has grown to encompass almost 1,500 acres of protected rain forest habitat and continues to be a world-renowned birding and eco-tourism destination.
Waking up as the rain forest comes alive is a magical experience. The shimmer of morning light washes in like a gentle wave. Lilting, raucous bird song, hangs on the moist mountain air. White-necked Jacobin and Copper-Rumped hummingbirds dart around the hanging nectar feeders. Purple and Green Honeycreepers and Blue-gray and Silver-beaked tanagers, each more flamboyant than its predecessor, soon join them. This spectacle of breathtaking color on the wing is… first light at Asa Wright.
AWNC offers an exciting ornithological and ecological travel experience. The Center is rated as one of the top bird watching spots in the Caribbean. From the veranda visitors can enjoy magnificent tropical birds at feeders or engage in extended birding hikes and narrated tours, including a hike to see the rare and endangered oilbirds. Asa Wright is one of the few locations birders can easily observe a breeding colony of these rare birds, the only nocturnal fruit-eating birds in the world. A hike through the rainforest, to a magnificent grotto, and visitors can view the colony of Oilbirds.
While birds are the main attraction, the setting itself is any nature lover's paradise. Flowering tropical plants like dramatic torch ginger and the flamboyant lobster claw Heliconia are just a few of the botanical gems on display. Miles of well-maintained trails invite visitors to explore the magnificence of the rain forest first-hand with, or without on-site naturalists.
The food at the Centre includes delicious local specialties, served buffet style. Traditional afternoon tea is served, and guests can enjoy a complimentary rum punch on the veranda before supper is served. The Centre grows much of its own food including its own excellent coffee and cocoa on the estate.
If you're looking for a magical location to bird watch, enjoy an ecological get away, or just immerse yourself in the beauty of the rain forest, the Asa Wright Nature Centre should be near the top of your list. For more information on Asa Wright visit: http://asawright.org/
To read more of my writing and visit my blog go to: http://hazelfreeman.com/ Freelance Writer