These measurements are for 5 sizes of doll bodies. I used my own dolls to take the measurements.
When you design a pattern to make doll clothes, you must remember to make the pattern pieces larger than the doll's actual measurements for two reasons. First, the clothes must be large enough to get the clothes on and off the doll easily. If you are making the clothes for a child's doll this is especially important. Second, you must also include extra fabric for the seam allowances. Keep in mind that if a doll has a soft, or stuffed cloth body, such as 18 inch
American Girl
or
Gotz Prercious Day
, the measurements may be somewhat different for your doll due to the stuffing moving during play and dressing. I highly recommend that you always measure your doll to make sure a pattern will fit, these measurements are merely a guide. Here are
baby doll body measurements.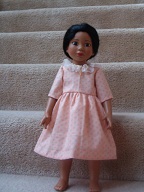 1. Slim 18 inch Dolls
Measurements taken on Magic Attic doll, Rose:
Chest - 10 inches
Waist - 9.5 inches
Hips - 10 inches
Across shoulders - 4 inches
Shoulder to waist - 3.5 inches
Top of arms - 3.75 inches
Waist to below knees - 6.5 inches
Waist to ankles - 8.75 inches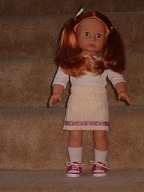 2. Full-bodied 18 inch Dolls
Measurements taken on Gotz Precious Day doll, Julia:
Chest - 12.75 inches
Waist - 11.75 inches
Hips - 12.75 inches
Across shoulders - 4.5 inches
Shoulder to waist - 4.5 inches
Top of arms - 4.75 inches
Waist to below knees - 5.5 inches
Waist to ankles - 9.5 inches
3. 16 inch fashion doll, Gene:
Chest - 7 1/8 inches
Waist - 4 1/8 inches
Hips - 6 3/4 inches
Across shoulders - 3.5 inches
Shoulder to waist - 3 inches
Top of arms - 2.25 inches
Waist to below knees - 5.25 inches
Waist to ankles - 9 inches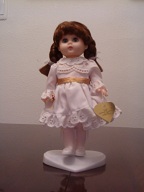 4. Vogue 8 inch Ginny Doll:
Chest - 4 inches
Waist - 4.5 inches
Hips - 5 inches
Across shoulders - 1.75 inches
Shoulder to waist - 2 inches
Top of arms - 1.75 inches
Waist to below knees - 2.5 inches
Waist to ankles - 3.25 inches
5. 11.5 Inch Fashion Doll:
Chest - 5.5 inches
Waist - 3.75 inches
Hips - 5 inches
Across shoulders - 2.5 inches
Shoulder to waist - 2.25 inches
Top of arms - 1.75 inches
Waist to below knees - 4.25 inches
Waist to Ankles - 6 5/8 inches
Baby Doll Body Measurements
Article and photo of dolls by Helen Wharton