These measurements are for 4 sizes of baby doll bodies. I used my own dolls to take the measurements.
When you design a pattern to make doll clothes, you must remember to make the pattern pieces larger than the doll's actual measurements for two reasons. First, the clothes must be large enough to get the clothes on and off the doll easily. If you are making the clothes for child's doll this is especially important. Second, you must also include extra fabric for the seam allowances. Here are
more doll body measurements.
1. Large 20 Inch Baby Doll
Measurements taken on 20 inch LaBaby by Berenguer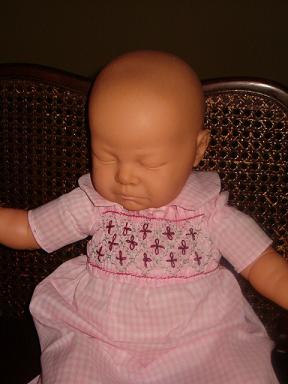 Chest - 16.5 inches
Waist - 16.5 inches
Hips - 17.5 inches
Neck to waist - 4.5 inches
Upper arm circumference - 5.75 inches
Forearm circumference - 5 inches
Thigh circumference - 8 inches
Calf circumference - 6.5 inches
Neck circumference - 8.5 inches
Head circumference - 15 inches
Waist to knees - 7 inches
Waist to ankles - 10 inches
To read a review of this doll Look Here


2. Medium 15 inch Baby Doll
Measurements taken on American Girl Bitty Baby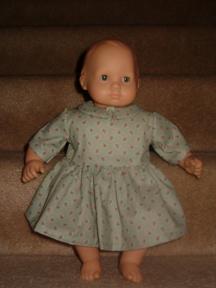 Chest - 13 inches
Waist - 12.5 inches
Hips - 13 inches
Neck to waist - 3.5 inches
Waist to knees - 5 inches
Waist to ankles - 7 inches
Upper arm circumference - 4.75 inches
Forearm circumference - 4.5 inches
Thigh circumference - 5.5 inches
Calf circumference - 4.5 inches
Neck Circumference - 8 inches
Head circumference - 12.25 inches
medium baby doll clothes to sew

3. Small 13 inch Baby Doll
Measurements taken on True to Life Newborn Doll

Waist - 11 inches
Hips - 11.5 inches
Neck to waist - 3 inches
Upper arm circumference - 3.75 inches
Forearm circumference - 3.5 inches
Thigh circumference - 6 inches
Calf circumference - 4.5 inches
Waist to knees - 4 inches
Waist to ankles - 6.5 inches
Head ciecumference - 11.75 inches
Small baby doll dress to sew

4. Mini 7 inch Baby Doll
Measurements taken on Cindy Doll by Fibre Craft

Waist - 4.75 inches
Hips - 4.75 inches
Neck to waist - 1.5 inches
Arm circumference - 2 inches
Thigh circumference - 2.5 inches
Calf circumference - 2.25 inches
Arm length - 1.75 inches
Head circumference (with hair) - 6.25 inches
Waist to knees - 2 inches
Waist to ankles - 3 inches
mini baby doll clothes to sew

More Doll Body Measurements