As many of you already know, I work in a pre-school. A few weeks back I happened to go into the teachers lounge and, on the floor was a box of dolls. If there is anything I can't resist more than dolls, I don't know what it is. The dolls in that box were a sad lot, to be sure. But, what the heck, it was worth a look. Not a one had a stitch of clothing on, they were dirty and their hair was disastrous. All but one were nondescript baby dolls. No famous makers in that box! But there was an 18 inch doll in there that seemed to be calling me to do what I could to return her to her previous state of beauty.
I picked her up and asked my boss if it would be alright for me to take her home and try to work with her. She said, "Help yourself, nobody seems to want the dolls in that box." That was all I needed to hear.
That evening I spent about 4 hours working at combing the knots out of her hair. Actually, it would be more accurate to describe her hair as one big knot. I had to separate clumps of hair with my fingers just to get small enough sections to comb. I used a moderately wide toothed comb and a LOT of patience. The distribution of the hair on her head showed me that she had once had two side ponytails, so that's what I worked toward.
In the photo at right is my pretty, new friend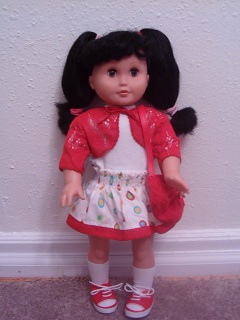 It was obvious from the look of her face that she was a less expensive version of an 18 inch doll, but she has a cloth body and legs which are similar to
American Girl
and
Gotz Precious Day
dolls. But all her tags were cut off, so there's no way to know for sure who made her. Her face is very pretty, although somewhat the worse for wear. Her lips have a little bit of the paint worn off, but she still retains a lot of charm.
Fortunately all her limbs are still tight, and so is her strap where her body and head are attached, so fixing her is mainly cosmetic.
I have dressed her in the outfit that my
Gotz Precious Day
doll, Julia, came from the maker in, so that you can see she is just about the same size, although a little slimmer, especially in the arms and legs. She is not as slim as
Magic Attic
or other similar dolls.
So far I am quite happy with the results, but I think I may have to do a "Downy Dunk" on her hair to get some of the frizziness out of the ends. If you are trying to restore a doll that some little "hair stylist" has combed and taken the original style out of, try using fabric softener instead of hair conditioner. The dolls hair isn't really hair, it is a synthetic, and benefits more from fabric softener.
Now I just have to think of a good name for her!
For a look at my first recycled doll,
Look Here
.
For a pattern to make a pretty dress to fit 18 inch dolls
Look Here
.