This week I came across the most disturbing news. In Universal City, Texas, 19 year old Austin George Patterson was charged with three counts of animal cruelty. On September 17, 2007, the bodies of three gray tabby cats were discovered mutilated and murdered. The cats were found underneath a sweatshirt, their bodies arranged in a triangle. Lieutenant Bill Gabbard, of the Universal City police department, stated this was the worst case of animal cruelty he has seen in 19 years.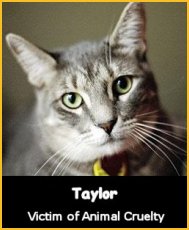 I will not go into the horrid details of what was done to these poor precious cats, but I will provide a link at the bottom of this article if you wish to read the full story.
Patterson bought one of these cats off Craigslist.org, and police suspect the other two were purchased through Craigslist.org as well. Jonathan Nolte posted an ad on September 10 in hopes of finding their 3 year old gray tabby, Taylor, a new loving home. Patterson responded to the ad a few days later. Nolte even interviewed Patterson face-to-face for an hour before allowing Taylor to be adopted by Patterson.
This is extremely disturbing because itís not like Taylorís family just gave him to anybody. They conducted an interview and believed their cat was going to a good, loving home. Patterson already owned a puppy and kitten, which were found at his home and retrieved by animal services.
Links to the Full Story
Man Accused of Mutilating Cats
More Allegations Surface Against Accused Cat Killer
Resources for Preventing Cruelty to Animals
Pet-Abuse.com - Preventing Animal Abuse
ASPCA:Fight Cruelty - Ten Ways to Prevent Cruelty
Geolor's Earth Issues: Animal Cruelty - Important Links