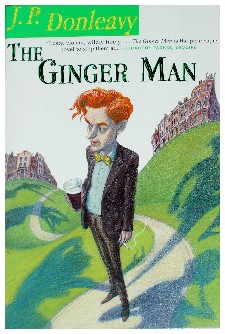 Let us all join with Sebastian Dangerfield to rear up in horror at the abominable way in which society treats its antiheroes! Such a rascal is Dangerfield - a drunken womanizer, a leech and a lech, a brilliant schemer, self-righteous prude, a man in decline, yet rising up, each time, from the bowels of hell through a catharsis of his own wit and imagination. J.P. Donleavy is brilliant. This picaresque novel, written in a modified style of stream of consciousness, is constantly moving, giving the reader little time to ponder a moral or ethical dissection of Dangerfield's antics.

Dangerfield is, after all, a manifestation of human desire in its physical state. He desires, and attains, the finer things in life; yet, each attainment is followed by his own predictable calamity of foibles and follies, through gluttony and his own rapacious wolfishness. Mr. Donleavy is masterful in his choice of every word. Short phrases, separated by periods, create a visual world in full bloom, while pulling the observer (you, insatiable reader) through the emotional rollercoaster being felt by Dangerfield's soul. Such a scoundrel deserves hatred and banishment. In our own observance, we become the enablers of Dangerfield's unconscionable acts, finding ourselves, (surprisingly), unwilling to give him his deserved punishment, forgiving him his transgressions as swiftly as his Mary does. He is, after all, a sensitive soul. Who could argue with that?

J.P. Donleavy's prose dances on the edge with his poetic verve and descriptive style. Each chapter ends with a slice of verse - a summary of each poignant situation in which our roguish suitor finds himself:

"I set sail
On this crucifixion Friday
With the stormy heavens
Crushing the sea
And my heart
Twisted
With dying."

The Ginger Man

By J.P. Donleavy  Publisher: Grove Press

Cheers!