Today I'd like to introduce Kathy Adams to you. Kathy is a very talented Quilt Artist, and professional long-arm quilter. Kathy is a very interesting personality, and I'm sure a lot of Bellaonline readers will identify with her particular journey. I've included a link to Kathy's website KoolKat Quilting as well as her blog, for you to have a browse over her wonderful creations! So let's start….
Hi Kathy, welcome to Bellaonline, and thank you for making yourself available for this interview. Fistly,
Where do you live?
I live in a rural residential area, Blue Mountain Heights, on the Toowoomba Range escarpment. Our area is midway between Toowoomba City (South-East Queensland, Australia) and the fast-growing community of Highfields.
Where were you born and where did you grow up?
In was born in Mt Morgan, Queensland, where my father worked in the copper mine. We moved shortly afterwards to Bundaberg, where I did most of my growing up.
How and when did you become interested in quilting?
I became interested in quilting around 20 years ago when I saw a project in a home making magazine. It described a quilting project that could be done in a weekend. It took considerably longer than a weekend, and I made just about every mistake possible on my first quilt. However, that quilt still exists, and today it is used to wrap a solar panel that is part of our camping kit that is housed in our off-road camper trailer.
What is it that attracts you to quilting and fabric crafts in general?
I started by learning sewing at my mother's knee. My mother was interested in many forms of arts and crafts including painting. Before I took up quilting, I made all my own clothes. The practical sewing skills have been invaluable when learning quilting. I am also a fine arts graduate and have a couple of years of Design Studies under my belt. The art training and following teaching experience has been of great help when launching into 'art' quilts or designing original quilt patterns.
How did you learn the basics of quilting?
My first quilt was self-taught (and it shows)! I then discovered there was a local quilt group in my neighborhood. The welcoming attitude of the teacher to beginners encouraged me to keep going. Then I joined a local quilt group and have continued to be a member of quilt guilds, branching out to join larger state wide ones also.
Can you briefly give us a description of your quilt journey to date?
First quilt – log cabin. Then a series of pieced quilts, not much appliqué. I then ventured into art quilts, and after obtaining my long arm machine, I further developed the techniques of raw edge appliqué, curved piecing, and original quilt designs from sketches. My current interest is working from photographs and combining all sorts of techniques within the one quilt, including hand painting, hand and machine embroidery, using the computer to "draw" my pattern, raw edge, needle-turn and dimensional appliqué – the works!
Tell me about your family and friends. What do they think about your quilting?
My family and friends have always been supportive, if a little bemused by my creative journey. I went from fine art to pottery to restoring heritage houses, to lead lighting, to painting once more by joining a local artists group, then to quilting clubs, where I have remained firmly ensconced for many years. All of my family members have received a quilt as well as most of my close friends. At present, my husband Geoff helps me run our machine quilting business, KoolKat Quilting. This gives me some time for creative quilting endeavours – not as much as I would like, but I make time when I can.
What is your favorite creation and why?
"Gather ye Rosebuds" is the most detailed and satisfying piece I have created to date. I loved it because it came out exactly as I had planned, and the techniques all worked perfectly for me. I have since made a commercial pattern from this design, and it has been very well received.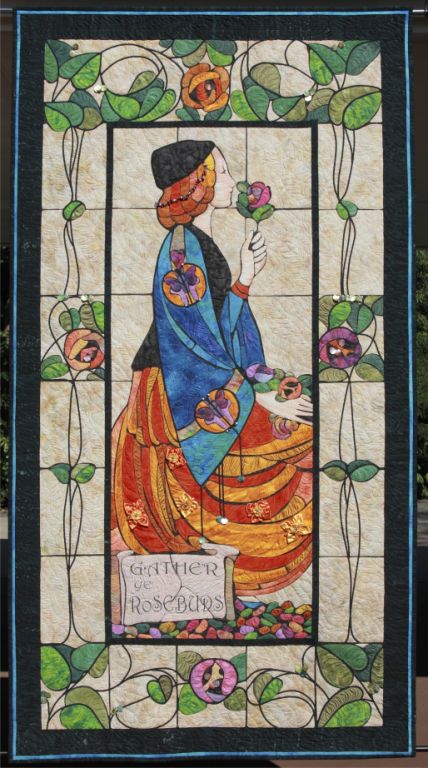 What would be your favorite part in the process in creating a quilt?
Definitely the design stage! It is such fun to collect inspiration and to draw up the design and to play around with shapes, colours, fabrics and techniques. Also, it is so open-ended and creative at this stage! Once the project is underway, however, a deeper contentment will set in, and I do enjoy the process of making. If it's meant to be, it usually goes well. Once it's done, I don't have a lot at attachment to the finished product – time to make a new one!

What prompted you to go into Long Arm Quilting?
I went into long arm quilting after experiencing quilting with a domestic sewing machine. As my quilting ambitions became larger, so did the quilts, and one day I just said to myself, "there has to be a better way." I sent a quilt off to a machine quilter and when I got it back, I vowed never again to try quilting large quilts on domestic sewing machines. As I began to produce more quilts more quickly, (now that I was freed from the quilting process), I began to think maybe I could have one of these long arm quilting machines and once more do the whole process myself. I did have ideas that I might one day do quilts for other people, but not until I'd practiced on a few of my own first. I had hardly had my Gammill Classic (non-computerised) long arm machine installed when there was a knock at the front door. There stood a friend of mine with five quilts! While I still stammering "But, but, but…", she had already said "I know you'll do a good job Kathy" and was halfway down the front path. That was over five years ago, and some 1500 quilts later, I've learned a few things, but there is so much, much more to learn!

What other hobbies do you have besides quilting?
Embroidery is another interest, particularly in how I can incorporate this with quilting. I have done this with my original quilt designs, often by taking an element from the fabric I'm using, digitizing this and producing embroidered blocks using my 12 needle Prodigi industrial embroidery machine. KoolKat also provides an embroidered quilt label service for customers. Apart from that, I like travelling in our 4WD and camper-trailer. We've seen some interesting places, and camped in some remote spots. I have used these times to sit and do some hand stitcheries, and sketch designs for quilts. I often photograph things I see in nature, often close-ups of leaves and bark patterns, as well as landscapes. Sometimes these give me ideas that wind up in quilt designs.

Where do you find your inspiration?
Art history – I love the Art Nouveau Period of design, and I adore all sorts of antique ornamentation. What I see around me, colourful stained glass windows, cats and animals, Australian birds and the Australian bush. My garden, even when full of weeds, portrait art and art quilters. I am in awe of quilt artists such as Jenny Bowker, Gloria Loughman and others

Has the art of quilting ever helped you through a time of struggle or heartache?
I've had a pretty fortunate life, overall, so I am grateful for that so far. I know that sewing will always make me feel good, so I can't understand people who are "bored". There is never enough time in the day for all the things I want to do.

Do you have a collection? Not fabric related?
I collect, and people give me cat things. Mugs, ornaments, pictures and fabrics. I also collect silver jewellery but I don't get given much of that LOL!

How do you go about planning your next project? Where do you start?
Usually something just hits me. It could be an image I like, a quickly scribbled sketch, or a technique I want to incorporate into a piece. If it is a quilt for a friend, I start with the colours that they like, and the fabrics seem to suggest a design and I go with that.


Do you have any tips or advice for beginners?
Do as many classes as you can afford. Always use quality fabrics throughout your work, and don't be afraid to be different. Only make what you absolutely love. Otherwise it can become a chore. Find what your area of brilliance is, and stick with it!

How do you fit time to quilt into your day/week?
Even though I'm in the quilting industry full-time, it gets harder and harder to follow my own projects. I often work at night, usually when my husband is asleep and the house is quiet. It is the only time I get a chance to think and let my creativity find expression. Needless to say, this sometimes makes it hard to dig me out of bed in the morning, especially as my husband is a morning person! However, my own work is an essential part of me, and sometimes I just have to make time to ensure this happens. I also take advantage of workshops and conferences where I can. I've just come back from a machine embroidery convention, and I have recently attended demonstrations of long arm quilting given by the amazing Sharon Schamber.

What do you wish you would have known when you started quilting?
I wish I had always used quality fabrics in all my work, including on the back. I also wish I had bought a long arm machine when I started! I wish I hadn't felt so guilty about spending money on my quilt habit – it has been worth every cent! Oh – I also wish I had bought less fabric just for my stash instead of for a specific project. This is because my tastes have changed so much I now have to throw lots out!

Where do you see patchwork and quilting in ten years from now?
Quilting used to be a money saving craft, but now I think it has moved way beyond that. I think there will be an even greater diversification as more quilters use computers, the internet, and very sophisticated machines to help create their work. However, the personal touch will always be of prime importance, and hands-on workshops, quilt shows, and quilt groups are here to stay.

Where do you see yourself in patchwork and quilting in ten years from now?
I will most likely move more towards the design area in quilting. I will still do long arm work for customers, but I will most likely become more involved with teaching, travelling and exhibiting as my skill and recognition of my work develops.

Tell me about your books or patterns that you've had published. Was it difficult getting them published?
I self publish my own patterns, using Corel Draw and a colour laser printer. This has been good, as changes are easily made, and I can print "on demand". Getting my patterns distributed has been more difficult, so we plan to visit trade shows in the near future to achieve this.

Are you planning to write any more quilting books or patterns?
Yes – I love books and I love to write and design. I hope that this will be an important part of my journey in the future.

Do Long Arm Quilters get enough recognition in Quilt Shows? What are your comments?
I love the idea that a quilt can be a "two-person" creation. That could mean that one person makes the top and another person does the quilting, or whatever. I think also that any professional artist (including a long arm quilter) should be on an equal footing with other professionals, and be allowed to enter their own work in any professional category. In this day and age of technology, we have to stop limiting quilters and encourage the creative use of new machines and techniques. In that way, quilting will always flourish and grow, to enrich all who are involved.

Thanks Kathy for your comments. They are most appreciated.
KoolKat Quilting Website

Kathy's Blog