Well, folks, it is official -- Punxsutawney Phil did not see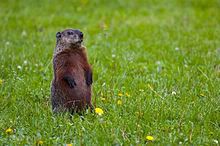 his shadow today, so an early spring is predicted, for Punxsutawney, Pennsylvania anyway, where the largest Groundhog Day celebration is held. Apparently, since 1887, our little groundhog friend has not seen his shadow only sixteen times and has seen it ninety-eight times. From where did the Groundhog Day origins begin?
In the United States and Canada, Groundhog Day is a holiday. On February 2 each year, folklore tradition honors the groundhog and his prediction for spring. When the little guy pokes his head out from his burrow on this day and it is cloudy, he ventures out because he did not see his shadow. This means we will have an early spring. If he does see his shadow, he scampers back inside, which means we will have six more weeks of winter.
Early morning festivals are held around the country on this special day. One such festival, is held in southeastern Pennsylvania. Groundhog Lodges (Grundsow Lodges) celebrate the holiday with
fersommlinge
(a Pennsylvania Dutch social event). Food is served, speeches are made, and one or more
g'spiel
(plays or skits) are performed to entertain those who are hardy enough to brave the cold morning. The Pennsylvania German dialect is the only language that is allowed to be spoken at the event. Anyone who forgets and speaks English will have to pay a penalty. The penalty is paid with a nickel, dime or quarter, per each English word spoken. These coins are tossed into a bowl in the center of the table.
Historical origin theories vary. One reference to Groundhog Day in early America was written by James Morris, a storekeeper in Berks County, Pennsylvania. His notation was dated February 5, 1841. Mr. Morris noted:
Last Tuesday, the 2nd, was Candlemas day, the day on which, according to the Germans, the Groundhog peeps out of his winter quarters and if he sees his shadow he pops back for another six weeks nap, but if the day be cloudy he remains out, as the weather is to be moderate.
Groundhog Day began as a Pennsylvania German custom in southeastern and central Pennsylvania in the 18th and 19th centuries. It is possible it originated from ancient European weather lore. At that time, a badger or sacred bear was called upon to predict the weather.
The Pagan festival of Imbolc, held on February 1, is dedicated to the Celtic goddess, Brighid. The name
Imbolc or Oimelc
, refers to the lactation of the ewes. It is symbolic of the flow of milk that signifies the return of spring, when the life-giving forces bring renewal. This festival also includes weather predictions.
The holiday also has some similarities to the medieval Catholic holiday of Candlemas, which coincides with the pagan observance of Imbolc.
Since spring-like weather can occur in some parts of the country and not in other locations, Groundhog Day festivals are held throughout the United States and Canada for local weather predictions.
*******
Image Credits:
Groundhog
Author: April King
GNU Free Documentation License
http://en.wikipedia.org/wiki/File:Groundhog-Standing2.jpg
*******
Editor Picks:
,