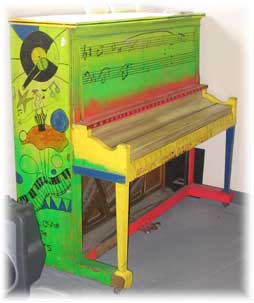 If you're in the market for old upright pianos, look no further than your local freecycle or craigslist. A lot of people who are trying to get rid of old pianos simply wanting someone to haul it away. They're heavy- a lot heavier than you can imagine, so you'll need a truck and some very strong men. Was that sexist? Strong people. Very strong people.
Refinishing Pianos
If you want the traditional piano look, of classical stained wood, go for it. You might need special scraping tools, or chemicals to remove the old finish. Be sure to protect the inner piano workings from dust and chemicals. Try using gel-based solvents because they're easy to use on textured surfaces, like decorative carved areas.
Old Upright Pianos
an old upright piano has a lot of surfaces for painting. Before getting started, have a general plan in mind. if you plan to make the front legs striped, for instance, count the ribbed sections and make sure that the color pattern you've chosen will work out. If you plan to do mural type paintings on the top and bottom panels, sketch them out before you begin. Once again, you will need to make sure that the inner workings of the piano are protected.
Safety Tips for Refinishing Old Pianos
Be sure that you're working in a well-ventilated room so that harmful chemical fumes don't damage the rest of your decor, or your lungs. Use a drop cloth to protect your flooring. Have the piano inspected, but not tuned before you start. If it's in need of repair, you want to make sure it's repairable. After it's been refinished, go ahead and have it tuned. Pianos can go out of tune from being exposed to different moisture levels, and that's a natural occurrence when you're painting, staining or removing an old finish.