Here is another example of how a landscape photo can be just as effective as a people photo in suggesting a story. Feast your eyes on this bizarre image. What is going on in that upper window? Something might be trying to escape. But what? Or maybe this horrific red thing is the result of a scientific experiment gone awry. What will happen to the people in the apartment below? You be the judge. Often, an unusual photo will lend itself especially well to inspiring genre fiction. By contrast, you could write a mainstream novel about this image. Perhaps it reminds you of when you were ten years old and frustrated over your parents' divorce and you took your dad's too-expensive gift of a red vinyl beanbag chair and tried to stuff it out the window at your mom's apartment. So you decide to write a literary novel about how someone's insecure childhood caused him or her to lose faith in the power of love. Or maybe the image suggests a regular guy who works the night shift and is using the best object he has to block the light from shining into his apartment so he can sleep in the day, and you write a romantic comedy about him.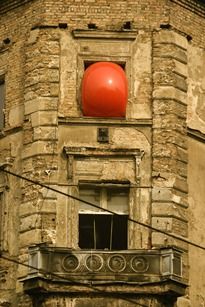 But many of us will see a weird image and reach for a weird explanation. That is where genre fiction such as fantasy, horror, and science-fiction come in. Look at how striking the sandstone and reddish-orange colors are as they complement each other. Such hues set a bold and larger-than-life mood. Notice the contrast between the garish modernity of the plastic ball, or whatever it is, trying to squeeze through the simple but rugged window frame of this severely old-fashioned building. Are we perhaps in the mystical and ancient city of Jerusalem where a reckless occultist has managed to summon a grossly synthetic version of the devil? Or perhaps we are in a cold northern city somewhere in China or Russia where some poor but brilliant students have managed to puncture the fabric of the time-space continuum, only to let forth a science-fiction creature from another dimension, and now it is trying to launch itself through the window into our world. What trials will our heroes face to put the genie back in the bottle? Let your imagination run wild as you write the story that explains this photo.
Photo courtesy of Dreamstime Stock Photos: Free Picture: The Red Balloon ID: 262032 © Maria Weidner | Dreamstime Stock Photos
Sign up for the free, weekly
Fiction Writing site newsletter
to keep up with site content.