People have been making New Yearís resolutions since the time of the ancient Babylonians. The most popular resolution then was not to quit smoking or to lose weight, but to return something borrowed from a friend the year before.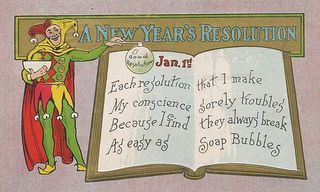 In the world today, New Year's is an excuse to party. Resolutions are made, but are usually broken after a few days or weeks. Don't make resolutions that are impossible to keep, make resolutions about things you want to accomplish with your life.
The New Yearís resolutions of a writer should focus mainly on different aspects of writing. When you look back over the past year, are there things you wish you had done differently? Do you wish you had spent more time writing? Do you wish you had sent more manuscripts to publishers? Perhaps there is a writing class you wanted to take, but didnít?
I will suggest some possible resolutions that as a fiction writer, you may wish to make.
1) Improve your writing skills by taking a writing class. There are several available over the internet. Some of them are free, some of them cost. No matter which class you take, do your best. If you have a strong desire to learn, you will.
2) Commit to writing 1 short story a week. This isnít the time to be overly critical of yourself or to be a perfectionist. That is one of my biggest obstacles - I want everything to be perfect. But I am human and so are you. If you insist on your manuscript being perfect (in your eyes) before you submit it for publication, then you will never take that step.
3) Commit to finishing a book in six months. That means you will actually have to sit down and work on writing your book, not just dream about doing so. If we didnít have television around, there would probably be a lot more books written.
4) Once a month, send a story to a magazine for publication. Your story may or may not be accepted. Donít let fear of rejection stop you. Most authors could fill a book with rejection slips they have received before one of their stories was actually accepted for publication.
5) Resolve to enjoy all that life has to offer, while always looking for stories to be told. Donít sit at your computer all day or feel as though you have to write all day long. Take some time out to go for a walk. As you observe life happening around you, inspiration for stories will come.
6) Resolve to read more. Anyone who wants to write needs to read - a lot. Donít feel guilty about reading - think of it as work. Study the techniques used by your favorite authors. Would you have written the story the same way? Copy down the first sentence or paragraph, then write the rest of the story yourself in your own way, with a new ending. If you like the way your story turns out, go back and completely redo the portion you copied down to start and make the story your own.
7) Resolve to broaden your knowledge of words and grammar. This will improve your writing tremendously. Learn just one new word a week. Master not only the meanings of the many different homonyms, but also learn how to spell them. If there is a part of grammar that you don't understand, take a few minutes each day and study it until you do understand it.
If you make the resolution to write a short story a week, then miss a week doing so, that is no reason to give up that resolution. Just start it again the next week. Life happens and causes us to change our plans at times. Don't be discouraged by it.
Make a resolution that 2013 will be the most successful year of writing that you have ever had. If your writing is just a hobby, think about moving it up a notch and trying for publication. There is always room for another good writer.