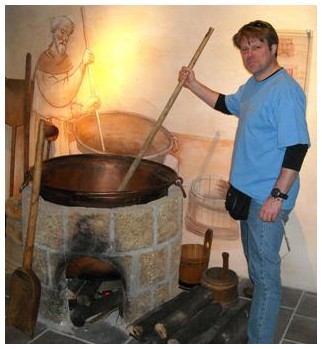 On June 11, 2007, I received an email from Andy Neil, owner of Bier-Mania!TM Cultural Beer Tours. He had attached a special surprise video, a clip that he took of my friend John Dale, owner of Spinnerstown Hotel Restaurant & Bar in Spinnerstown, Pennsylvania, USA. John had scheduled a beer tour with Andy, and they discovered their mutual connection to me quite by chance. While touring Brouwerij Rodenbach in Roeselare, Belgium, they decided to shoot a flick in classic "Michael Jackson" style for the simple pleasure of Michael Jackson himself. As John held up a glass of Rodenbach Red, he toasted with the words, "This is for you, Michael. Rodenbach…the most refreshing beer in the world." The Beer Hunter took great pleasure in John's "Michael Jackson imitation," and I was privy to a demonstration of Andy Neil's sense of service to his tour guests.

Andy Neil believes "the journey [to be]as important as the destination!" Every well-seasoned traveler knows the journey can transform a life.

Imagine the touch of untamed winds, whipping up the steep mountains of the Hautes Fagnes in the province of Liege. You can nearly taste the acidic nature of the soil on your tongue. An entire ecosystem, alive and roiling about, filters into the air, dispersing a unique universe of zoological organisms throughout the valley. They seem perfectly poised to serve their masters, those Lambic brewers who have carried on traditions of brewing for generations. Brettanomyces is abundant in this region, creating the most singular treasures in the world of wild fermentation. Flemish beer cafes, brewery museums, Trappist monasteries, and beer fests lay open to your discovery.

As you move eastward, you might choose to travel on a northerly course toward Düsseldorf, to the "axis of beer," "Düsseldorf-Venlo-Nijmegen," where traditions of "old beer" continue, despite the lagers that filter from the more easterly regions of Plzen in Bohemia. You entertain the idea of travelling to Bamburg and onward to Regensburg, a region that holds the world record for the largest concentration of breweries per capita in the world. Brauereigasthofs (brewery guest houses) open themselves to you as you move like a wayfarer through this rich diversity of European beer.

Beer reflects the history of man. These areas are rich in cultural multiplicity, molded by the duchies and empires that left their mark of economic change throughout centuries of struggle. World Wars were fought on the shores and in manufacturing and mining districts. Today, ancient castles, monasteries, and bombed-out bridges merge with state-of-the-art cosmopolitanism, a testimonial to the tenacity of the European spirit.


In 2006, British born entrepreneur Andy Neil established Bier-Mania!TM Cultural Beer Tours, and began a personal research tour throughout Europe and the United States. He designed a series of beer tour experiences, rich in history and culture, that would expose his tour guests to a broad range of traditional beer styles. He selected comfortable hotels and cozy Mom-and-Pop motels in historically rich regions, explored the most diverse estaminets, museums, beer gardens, and breweries, and structured a menu of tours to delight the most discriminating beer geek. His German wife Evi monitors the details, adding her linguistic expertise to sculpt desirable reservations.

Andy Neil takes his role as a tour authority seriously. In order to provide the maximum pleasure for his guests, he limits the number of touring clients to groups of 4 to 6 travelers, but sets his maximum limit at eight people. His tours are engineered in nomadic style, making the most of each stop along the way, while providing a bit of personal time for individual freedom at select destinations.

His tour carte displays a diversity of taste among his spectrum of guests. Tours scheduled for the winter holidays fill up the fastest. The Great European Beer Tour in December 2008, featuring Santa's five cities of Bruxelles, Düsseldorf, Cologne, Bamburg and Munich, has reached capacity, as has the Oktoberfest Special in October 2008, and the Belgium and France Special in November 2008. Andy has had such great success with these trips in Europe that he has expanded his tours to include celebrated beer regions in the United States.

In October 2008, he opens the Colorado Mountains Scenic Byways and Beer Tour, a trek over 1000 miles through National Parks, gold mines and world class breweries. From Denver, Colorado the trip works in a clockwise loop, crossing the Continental Divide twice, before ending back in Denver. Future USA trips will include a Texas BBQ & Beer Tour and an East Coast Beer Tour.

Flexibility is the key to Neil's success. He willingly modifies the content to merge two tours into one at the request of his clients, or designs tours to coincide with festivals in key locations. He often recommends that travelers build one extra day into their tours – a day of rest to deflate any stress related to the end of a tour and the often volatile changes related to flights home.

For the most current and up-to-date information on Andy Neil's Bier-Mania!TM Cultural Beer Tours, visit his website at: http://www.bier-mania.com/index.htm

Cheers!
Photos (courtesy of Andy Neil at Bier-Mania! Cultural Beer Tours) are: Tour authority Andy Neil; Linguistically skilled Evi Neil