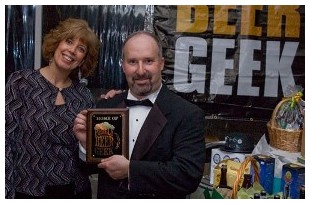 Silver glitter flaked through the air like fairy dust. The air was, after all, charged with excitement as fans, finalists, and TV camera crews stepped over the threshold at Manayunk Brewery & Restaurant in Philadelphia, Pennsylvania, USA into a world of challenge. Only one Beer Geek would reign victorious. The other five competitors would be left in the dust, their egos possibly shattered, knowing the gap that separated them from winning was as thin as a breath of air. It was Thursday, March 12, 2009, and we were at the Final Round of the 2009 Philly Beer Geek Competition.

After a competitive, two hour fight to the finish, Nugget Nate Gefvert seized the scepter to reign supreme as Philly Beer Geek 2009. This was the last leg of a multi-phase competition that required the contestants display a keen grasp of beer knowledge, highly developed tasting skills, a spontaneous sense of humor and the creativity necessary to display passion for beer to a panel of illustrious celebrity judges.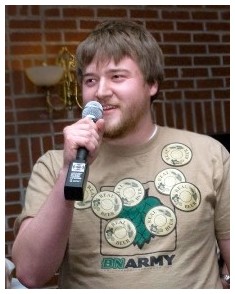 Progression to the Circle of Champions was as complex as an American Barleywine. In order to participate in the final two-part competition, each contestant had to win a Preliminary Qualifying Round sponsored by a registered beer bar, brewpub or restaurant in the Philadelphia metropolitan or suburban area. These rounds could be trivia-centric in structure, or could follow the creative design of the sponsoring establishment. Although some beer geeks believe there should be absolute consistency between Preliminaries held throughout the city and suburbs, the founders of Philly Beer Geek believe that universal knowledge and passion for Philly Beer comes in all forms, and creativity should not be squelched by a strict set of authoritarian rules. This is, after all, beer.

Although a majority of the Preliminary Round Sponsors had trivia or quizzos rounds, Tria Fermentation School selected their winner in a Blind Tasting. Standard Tap teamed up with Philadelphia Brewing to present the Beer Gong Show. In 2008, Standard Tap held a contest in which participants had to write a beer poem or haiku on a bar napkin. These competitions vary in style, but all display passion, and all address different skills needed to win in the Philly Beer Geek Semi-Finals and Finals competitions.


Winners of Preliminary Rounds went to the Semi-Finals, held at Manayunk Brewery & Restaurant on March 5, 2009. Although 14 beer geeks made the qualifying cuts, 12 confident beer geeks felt ready to compete in the Semi-Finals. Six illustrious Semi-Finals Judges, luminaries in the world of Beer, chose six Finalists to move on to the finals round for the March 12th event during Philly Beer Week 2009.

Those Finalists were:

• Andrew Pope – The Beer Pope - Manayunk Brewery & Restaurant in Manayunk:
• Doug Hager – Mad King Dougwig - Bridgid's in Philly's Fairmount section
• Gina Talley – Femme Fermental - The Institute Bar, Philadelphia
• Jim "Beer Island" Weber – Beer Island - Iron Hill Brewery & Restaurant in suburban North Wales, PA
• Nate Gefvert – Nugget Nate - Spinnerstown Hotel & Tap House in Spinnerstown, PA
• Steve Hawk – The Human Growler – Grey Lodge Pub in Northeast Philly

The 2009 Philly Beer Geek Finals began to the tune of "Here Comes the Judge," as five Illustrious Celebrity Judges entered, dressed in Mardi Gras Beads and Top Hats decorated in glitter and bottlecaps:

• Don Russell – Joe Sixpack, Philadelphia, PA
• Whitney Thompson– Brewer at Victory Brewing, Downingtown, PA
• Larry Horwitz – Brewmaster at Iron Hill Brewery, North Wales, PA
• Chris Firey – Brewmaster at Manayunk Brewery, Philadelphia, PA
• Steve Robson – Philly Beer Geek 2008, Philly's Beervanaland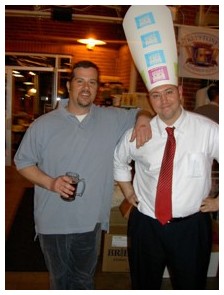 Moments later, the Finalists entered, led by Andrew Pope who was appropriately dressed in White liturgical tablecloth…errr, I mean, "chasuble", complete with stole, and topped by a 2-foot high hand-made mitre, decorated with Manayunk Brewery logos (undoubtedly, a pope's fondest fantasy). Doug Hager arrived in genuine Bavarian lederhosen while Steve Hawk wore a crown fashioned from a case of Yard's India Pale Ale, decorated with bottle caps.

Each contestant was introduced by stage name, and was asked to provide his/her Philly Beer "Phila"sophy, before moving into the traditional trivia rounds. The trivia segment queried contestants to display their expertise in areas of: Brewing Beer, Beer Acronyms, Philadelphia Beer, Beer History, Beer Cities, Off Flavors and Aromas, and Beer/Brewery Pairing. Judges then fired free form questions directed at identifying how immersed each was in beer – crazy questions such as: "If you had a swimming pool filled with beer, would you dive in, slowly immerse yourself, or use a water slide to make a splash?" or "Who should be the highest paid brewer in the country and why?" Before the intermission, each was given the opportunity to tell about their sponsoring beer bar, brewpub or restaurant, and why they are the best in the Delaware Valley.


As the peanut gallery took a break, the Finalists were sequestered in a separate room for a segment on Beer Profiling. They were asked to taste Beer A, Beer B, and Beer C. All were local beers - one each from Weyerbacher, Sly Fox and Yards Brewing Company. The Finalists were to attempt to identify which beer matched each of their respective breweries, name the style and name the beer. Most experts would agree that this task is close to impossible, but three of the six finalists named all three correctly, massively impressing the judges with their superior "geek-ness."

This gave renewed confidence to the Finalists, who rapidly moved into a Stump the Chumps segment – a turn-the-tables segment in which contestants displayed their beer savvy with difficult questions for the judges. "Describe the process used when making steinbier…" (If you, dear reader, can answer this, you deserve to be in the competition for 2010.)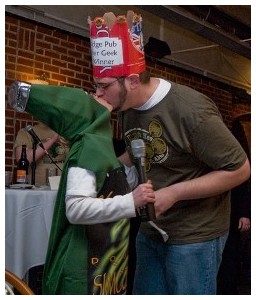 The most raucous segment, Propose to a Philly Beer, is always last, one designed to reveal true passion for beer. Each contestant had prepared by bringing a favorite beer to the table, one they could love for the rest of their lives. Andrew Pope ripped off his pope-robes and sang his proposal. Doug Hager's beer arrived in a dress; but Steve Hawk won the hearts of the audience with his proposal. His fiancé assisted by coming to the stage dressed like a bottle of Weyerbacher. On bended knee, he pledged his love in esoteric sentimentalities…and in reply, his "bottle-girl" grabbed the microphone and asserted her love with a loud, audible belch. He then grabbed her and kissed her passionately. Who could argue with true love?

The judges deliberated for a long time, weighing passion against knowledge and technical perfection. An awareness that the stakes were high (that the winner would cash in on the Grand Prize worth over $1,000 and the prestigious title as Philly Beer Geek 2009) made the judges review every segment with clear thought. In the final moments, they awarded as Philly Beer Geek 2009, Nate Gefvert , who nosed ahead of a disappointed Steve Hawk (2nd place) and Jim "Beer Island" Weber (third place).

Manayunk Brewmaster and Judge Chris Firey presented a jubilant John Dale, Spinnerstown Hotel owner, with the coveted "Home of the Philly Beer Geek 2009" plaque for his establishment. Nugget Nate gets to rule for the next year, and will appear on the Illustrious Judges Panel in 2010.

Cheers!

Photos are (from top): Carolyn Smagalski and Jason Harris of Philly Beer Geek; Philly Beer Geek 2009 "Nugget Nate" Gefvert; Philly Beer Geek Grand Prize cache worth over $1,000; Manayunk Brewmaster Chris Firey and Andrew "Beer Pope"; Doug "Mad King Dougwig" Hager and his Philly Beer Proposal; Finalist Steve "the Human Growler" Hawk and Weyerbacher proposal