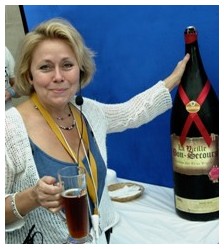 Mondial de la Bière 2009 officially opens at noon on Wednesday, 3 June 2009, at Windsor Station, 1160, de la Gauchetière Street West, in Montreal, Quebec. The opening ceremony will feature speakers Eigo Sato of Shiga Kogen Brewery, Jean-Claude Colin of the Mondial de la Biere, Strasbourg, Europe, and Jeannine Marois, President of the Mondial de la Bière.

Dubbed the "most important festival of international beers in North America," the Mondial de la Bière chooses a theme for each annual event, focused around the food and drink of a different country. For 2009, Japan brings its gastronomic individuality to Montreal. On Friday, June 5, 2009, the stunning highlight of the festival will feature a Beer and Fine Gastronomy Reception - a dining soirée spotlighting host Eigo Sato, Owner and Brewmaster of Shiga Kogen Brewery in Nagano, Japan. Thirteen beers from seven Japanese breweries will be paired with the elegant cultural fare of this island in the Far East.

The 2009 festival is the 16th for the Mondial de la Biere. Originally founded in 1994 by Jeannine Marois, Vincent Blair, and Pierre Lalumière, the festival fell solely into the hands of Jeannine Marois in 2002 when M. Blair and M. Lalumière chose to follow different career paths. Mondial de la Bière has continued to grow and evolve as it provides an eclectic menu of events for novices, as well as for seasoned connoisseurs. It includes educational seminars and workshops, a professional beer competition, a consumer beer competition, beer school, beer and food pairings, and musical entertainment. In 2008, the Mondial held a beer cartoon contest that featured a multitude of creative artwork from across the world. Over the course of 7 years, brewers have been challenged to brew special festival beers, exclusively available at the festival. This year, participants are: Brasseurs de Montréal, presenting Red Tea Beer; Hopfenstark, presenting Berliner Weiss; and Brasserie Dieu du ciel! presenting a Surprise Brew that remains a guarded secret until opening day of the festival.

During the first three days of the festival, beer enthusiasts have the opportunity to increase their knowledge with Seminars and Workshops presented by leading world authorities, who will present topics from the Evolution of Oxidation in the World of Beer and the Pleasures of Session Beers, to Ontario Beers and Hangover Cures. In addition, the MBeer School of Beerology, with advisors Mario D'Eer and Guy Levesque, will be held on Sunday, June 7, 2009 from 9:00 am until 4:00 pm. Participants will earn levels 1 and 2, leading to an eventual Beerologist Certificate.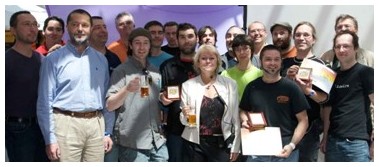 A Professional Beer Competition will award a Platinum Medal for the Best of Show Beer, and a maximum of 10 Gold Medals for beers obtaining the highest points during the contest. Registered beers will be blind tasted by a panel of international judges, during tasting sessions from June 3rd to June 5th, with the awarding of medals at noon on June 5th. Jury Chair is Metterino (Teo) Musso, Owner of Birrificio Baladin Brewery, Piozzo, Italy. Judges include: Lew Bryson, Beer Writer from Philadelphia, Pennsylvania, USA; Pierre Gangloff, Beer Distribution Expert from Alsace, France; Jörgen Hasselqvist, CEO of the House of Ale, Stockholm, Sweden; Carl Kins, Beerwriter and Brewer from Vuurkruiserslaan, Belgium; Glenn Payne, Proprietor of Beer2Love, Consultant, and Importer from London, England, United Kingdom; Eigo Sato, Owner and Brewer of Shiga Kogen Brewery of Nagano, Japan; Carolyn Smagalski, (yours truly), Beer Journalist and Editor of Beer and Brewing at BellaOnline, from Philadelphia, Pennsylvania, USA; and Deborah Wood, Beer Writer and Brewmaster from Quebec, Canada.

In the Public Beer Contest, the public votes for their three favorite registered beers. Award winning brewers are awarded certificates, along with gold, silver and bronze medals. Visitors who vote are entered to win one of three grand prizes: 1st – a selection of the Mondial de la Bière beers, valued at $300; 2nd - 12 tickets, valid for 2, to the complete season of the Grands Explorateurs, valued at $222; and 3rd -one pair of tickets to the Vermont Brewers Festival, valid for one session only, between July 17th and 18th, 2009 inclusively, valued at $100.

In addition, Mondial de la Biere features The Quebec Cheeses Boutique, the Petit Pub, and the chance to taste over 450 beers, ciders, and more from across the globe. Along with an extraordinary selection of Canadian beers, imports featured hail from Japan, Italy, the United Kingdom, Germany, Belgium, Sweden, the United States, Denmark, the Czech Republic, Trinidad, and Tobago.

Mondial de la Bière runs from June 3-7, 2009 at the Windsor Station and Courtyard, in downtown Montreal, Quebec, Canada. Hours from Wednesday to Saturday are 11:00 am to 10:00 pm, and Sunday from 11:00 am to 8:00 pm. Admission is free, but tasting tickets must be purchased for sampling of products. In addition, tickets must be purchased for Special Events including the Beer and Fine Dining Soirée, Seminars, and Beer School. Workshops can be entered using tasting tickets.

Cheers!

Photos are (courtesy of the Mondial de la Biere): Jeannine Marois, President of the Mondial de la Bière; Medal Winners, Mondial de la Bière 2008