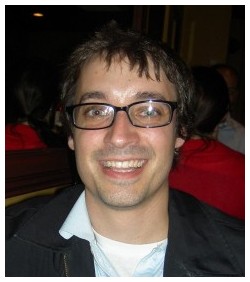 As you enter Monk's Café and Beer Emporium in Philadelphia, Pennsylvania, USA, the air is charged with soft music and whispering voices, while exotic aromas of fine fare and libations gently seduce your senses. Beer bottles wrapped in tissue, elegant labels, and a never-ending garden of earthly delights seem to be the norm for Monk's, displaying an élan vital second to none. Many guests tend to be Philadelphia beer connoisseurs – writers and beer-laureates who would never classify themselves as such –Jack Curtin and Don Russell, George Hummel and Nancy Rigberg, Lew and Cathy Bryson, and beer historian Rich Wagner, as well as novices and appreciators - all attuned to the finest in craft beer. For launching new products into the market, there exists no better place.

On June 9th, 2009, Owner Tom Peters hosted a 6-course dinner extraordinaire, introducing Brian Ewing and his new venture, 12% Imports that launched in September 2008 from Brooklyn, New York. Mr. Ewing specializes in importing artisanal Belgian specialties into the American market. He strikes-up a personal connectedness with each brewer, evaluating their products and their level of commitment to brewing as an art form. Only then will he accept them into his portfolio to dispense among establishments who truly revere beer. This evening, he brought six beers to match with victuals prepared under the direction of Chef Adam Glickman. Each pairing works in harmony and highlights the most delicate nuances of flavor.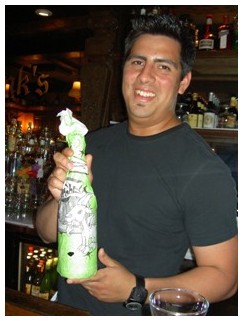 If appearances were the gauge for these beers, four (of the six) might be thought of as golden-blonde ales, with a golden to amber haziness akin to a crystal ball drenched in sunlight. The nose tells a different story, however, with each style displaying its own distinctive character.

From Brouwerij 't Brouwkot in Gullegem, West Flanders, Bjorn Desmadryl and Kim Olevier have crafted Netebuk, a Saison Farmhouse Ale of 6.5%, elegantly wrapped in white and mint green tissue. The nose is sweet and spicy, while apples and pears lay on the palate. They add no sugars and, in keeping with the style, it is unfiltered.

Brasserie Le Botteresse de-Sur-les-Bois presents a Blonde Belgian Strong Pale Ale by brewer Jose Poncin. Located in Saint-Georges-sur-Meuse, in the Wallonian part of Eastern Belgium, the brewery is the second largest - behind InBev - in Jupille. Poncin believes in adding an assertive bouquet garni to his beer, often using cinnamon or nutmeg in his brews. This one is brewed without spice, however, but takes on a Saison character with hints of eucalyptus and pumpkin.

Within 10 kilometers of the French border, Brasserie de Cazeau carries on a history that spans 200 years. Although it endured suspension of operations for 40 years in more recent times, it was resurrected by Laurent Agache who carries on true traditions of Belgian brewing – using local ingredients, developing methodical processes to create styles, and preserving that rustic character. De Cazeau Tournay Blonde on draft is a Belgian Blonde Tripel of 7.0% ABV, with a delicate fruit profile. It took 3 years to develop this farmhouse character: earthy, malty, with bitter balance.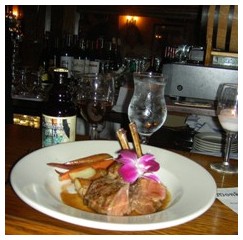 It pairs beautifully with the Mussel Falafel and Cazeau Tzatziki. Ewing notes that Agache also crafts a true Saison using elder flowers, and a Tournay Black Stout, refermented in the bottle for release during the Christmas season.

The most assertive of the four blonde ladies was crafted by Brouwerij Contreras in Gavere, Belgium and glistened in the pour from a stubby brown bottle. Without hesitation, my eye caught the elegant, pale green label, dressed with orange text and gold mastshaff, announcing it as Valier Extra, a Belgian IPA with a soft mouth and bitterness that grabs the throat. Although there was tingling effervescence on the tongue, the soft feel continued and merged with the Escargot dressed with walnuts and Valier butter sauce. This was the first time Valier Extra was brought into the States, and played-out as a welcome import.


From Brouwerij Het Alternatief in Izegem come the creations of part-time brewer, music-lover and math geek, Piet Salomez. Grounded with a strong foundation of traditional brewing, Salomez strays wildly from those traditions to create beers with a unique character and artistry that is unmistakable. He employs interesting combinations in his recipes. With our rack of lamb, Ewing paired Eewaarde Pater (Dutch for Reverend Father), blended with 7 different malts and aged on oak for three weeks. The dark mahogany body was nearly devoid of head, with a high gravity of 9% ABV. Despite the high ABV, it was light in body and had a spiciness in the mouth, allowing Salomez's own quirky personality to emerge through his artistry.

Cappuccino Crème Caramel requires a robust companion, and Embrasse from Brouwerij de Dochter Van de Korenaar in Baarle-Hertog delivers the power. A cross between  Belgian ownership and Dutch influence, this daughter of the corn ear brewery produces this dark Belgian beer from eight malts, even boasting one smoky malt, imported from Schlenkerla, Germany. Embrasse is deep blood red – malty and fruity, like dark cherries pushed to the edge. It has a smokiness that satiates, with a bitter finish, densely full-flavored like an inviting barleywine.

Cheers!

Photos are (from top): Brian Ewing of 12% Imports; Brouwerij 't Brouwkot Netebuk; Brouwerij Het Alternatief Eewaarde Pater with Rack of Lamb Entree; Brouwerij De Dochter Van de Korenaar Embrasse