Name:
Wattled Crane
Scientific Name:
Bugeranus carunculatus
African Names:
LelkraanvoŽl (Afrikaans), Epanda (Kwangali), Jowori (Shona), Motlathomo (Sotho), Korongo Ndevu (Swahili), Nyakukolwe (Tsonga), Igwampi (Xhosa), uBhamukwe (Zulu)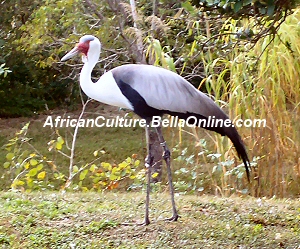 Height:
Almost six feet tall
Average Adult Weight:
14 to 20 pounds
Life Span:
20 to 30 years with a maximum lifespan of at least 80 years.
Description:
The back and wings are ash gray. The feathers on the head above the eyes and on the crown are dark gray and the rest are white. The wattles fully feathered with white feathers. The breast and tail feathers are black. The upper breast and neck feathers are white. The skin in front of the eye extends to the base of the beak and tip of the wattles is red, bare of feathers, and covered by small round bumps. Wattled cranes have long bills and black legs and toes. Males and females are indistinguishable with males being slightly larger.
Habitat:
Wattled cranes prefer permanent wetlands. Some populations of wattled cranes are nomadic and inhabit seasonal pans and temporarily flooded areas then move to other wet areas during dry periods.
Countries found in:
South-central Africa, and Ethiopia, South Africa, Namibia, and in the Zambezi Delta on Africa's east coast.
Babies:
Many nests contain a single egg. Incubation is up to 40 days. Babies are covered with yellow feathers making them look like ducklings.
Food:
Tubers and rhizomes of water plants and insects, snails and amphibians. In Ethiopia, wattled cranes eat the insect larvae that live in the spoil heaps created by the giant mole rat.
Group Name:
Flock
Habits:
Wattled cranes makes nests out of grasses and sedges on a large mound surrounded by open water.
Conservation Status:
Vulnerable. One of South Africa's most endangered birds. Total opulation is estimated to be between 8,000 and 10,000 cranes.
Threats:
Destruction of habitat, powerline collisions, humans, egg collection, mass aerial spraying for the tsetse fly.
Interesting Facts:
The wattled crane is the largest crane in Africa.