Name:
Greater Kudu
Scientific Name:
Tragelaphus Strepsiceros
African Names:
Nhoro (Shona), Tandala Mdogo (Swahili), Thôlô (Tswana), Umgankla (Zulu)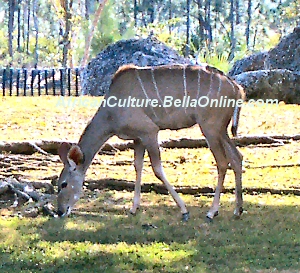 Height:
5 feet
Average Adult Weight:
Male kudu weigh 418-595 pounds while female kudu weigh 264-462 pounds
Life Span:
Greater Kudu live up to 7 to 8 years in the wild and up to 23 years in captivity.
Description:
A kudu's coat is red-brown to a blue-grey with six to ten white vertical stripes. Male kudus have impressive spiraled horns that spread out in a wide V pattern. Their horns start growing at age 6 months and are not fully grown until they are 6 years old.
Habitat:
Bush covered plains, dry riverbeds or rocky hill country
Countries found in:
Ethiopia, Tanzania, Eritrea, Kenya, Zambia, Angola, Namibia, Botswana, Zimbabwe and South Africa
Babies:
Female kudu give birth to a single foal after nine months gestation.
Food:
Greater kudu generally eat leaves, grass, shoots and occasionally tubers, roots and fruit with a preference for oranges and tangerines.
Group Name:
Herd
Adult Male Kudu with Impala at Pump Pan Waterhole, Chobe National Park, Botswana
Buy From Art.com
Habits:
Kudu live in herd of 10 to 15 females and their offspring led by a single male.
Conservation Status:
Least Concern
Predators:
Lions, leopards, cheetahs and hunting dogs.
Interesting Facts:
Greater kudu are the second largest African antelope.
The longest recorded horns on a kudu were 6 feet long.
Kudu are excellent jumpers jumping over 7 feet high.
They are very vocal. The communicate with loud grunts, whines, barks, and hums.