Starting to think about Christmas? Or do you need a quick holiday gift? Here's one for you! It's a CD Calendar! I've put together, using ViVa Artistry calendar brushes, a do it yourself quick calendar using a CD case! It's a basic calendar with the dates and months already printed on the template. You just have to add in photos and decorations, for an easy personalized gift! Try this craft with your child! They will love the glue involved. Better yet, have them make it for grandma!!! And if you have two kids, have each one do it for a relative! 2 names off your list!!! This project is awesome as you can make more than one in a short amount of time!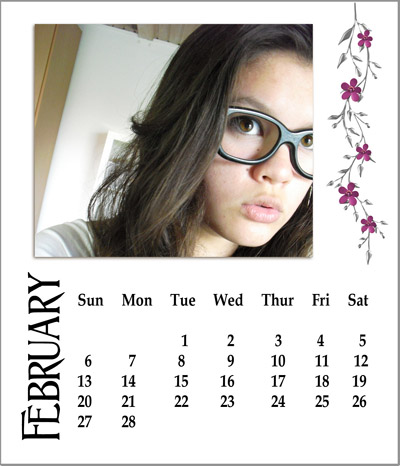 Here is what you will need for each calendar: 6 sheets cardstock (I prefer white as contrast for photos), 12 landscape sized photos, some decorations such as sequins or stickers, a CD case that can be flipped backwards and can hold cardstock, printer for your computer.
Take the following file and download it (the link is below the graphic). It is a zipped file with 6 jpgs in it. You can unzip with your computer by double clicking on the file. Your computer will prompt you about unzipping it. Respond yes. When the file is opened, you can click on each jpg and then print it on your printer using the cardstock. There are 2 months on each sheet (therefore, 6 pieces of cardstock.
http://www.4shared.com/file/AIPUEJ7X/BellaOnline_ViVa_CD_Calendar.html
Cut each calendar card out on the lines marked. Test them within the CD case and see if it fits properly. I use a papercutter for straight edges. Take your photos and adhere them above each calendar. You can crop your photos in any way it pleases you. Add in some decorations for personalization. You can adhere sequins in or doodle away with pencils or marker, Remember not to use too bulky of a decoration as it needs to lay flat in the CD case. For a CD calendar, I prefer clean and simple lines. You may wish to mark special occasions on the calendar with a marker. Thatís it! Close the case up, wrap it up and tie a pretty bow around it! The recipient will love the personalized calendar!