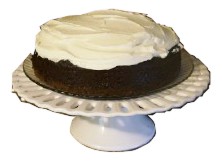 Adding Guinness to a chocolate cake creates a rich, deep flavor. This cake remains dense while keeping moisture in. As if a delicious chocolate cake wasn't enough, Irish cream frosting tops it off. It is a surprisingly easy dessert to make and it will not disappoint.
Chocolate Guinness Cake Recipe
Makes a 9 inch cake
Cake Ingredients:
1 cup Guinness beer
1 cup milk chocolate chips
1/2 cup butter (1 stick of butter)
3/4 cup white granulated sugar
1/2 cup brown sugar
1/2 cup baking cocoa
2 eggs
2/3 cup sour cream
1 tablespoon vanilla extract
2 cups all-purpose flour
2 teaspoons baking soda
Irish Cream Frosting Ingredients:
Cream cheese (8 oz.), softened
3/4 cup heavy whipping cream
1/2 cup confectioner's sugar
1 1/2 tablespoons Irish Cream
Directions:
1. Preheat the oven to 350 degrees.
2. In a small bowl combine the flour and baking soda and set aside.
3. In a large sauce pan add the Guinness, butter, and milk chocolate chips and heat on low until melted.
4. Remove the pan from the heat and whisk in the cocoa and the white and brown sugars, then set aside.
5. Grease a 9 inch springform pan and line the bottom with parchment paper (I like doing this step now, rather than at the beginning, to allow the chocolate and Guinness to cool for a few minutes before adding the egg mixture).
6. In a separate bowl whisk together the eggs, sour cream, and vanilla until just combined.
7. Whisk this egg mixture into the Guinness and chocolate.
8. Whisk the flour and baking soda in.
9. Pour into the prepared pan and bake for 45 minutes
10. Allow the cake to cool before removing the side of the pan and frosting.
11. To make the frosting beat the cream cheese until smooth with an electric mixer.
12. Add the sugar and Irish cream and continue beating.
13. Add the cream a little at a time and continue mixing until it is smooth and fluffy.
14. Frost the top of the cake, using all of the frosting.
Enjoy and sweeten the soul with chocolate!