The weather was perfect in downtown Scottsdale – 55 degrees and blue skies, with feathery clusters of white, softly interrupting the panoramic view. As night fell, lights lining the main drag illuminated the streets, whispering the promise of good beer. My cabbie chatted on about the torrential rains of the previous weekend and Scottsdale's otherwise beautiful climate; then maneuvered into the Papago Plaza Shopping Center, a strip mall dripping with Southwestern style.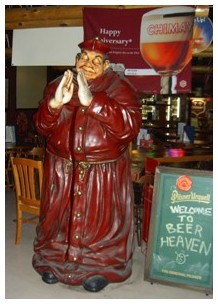 Papago Brewing is snuggled discreetly amongst a row of store fronts, but the beer-like window dressing announces this as the beer Mecca of the Southwest in a universal, visual language that we, as beer lovers, understand so well. Named in honor of the Tohono O'odham native tribe, the word Papago is derived from Papawi, a word that means tepary beans in the O'odham tongue, and a moniker used for the "People of the Desert" by the Piman peoples and conquistadors who occupied territory that is now Arizona and New Mexico.

Papago Brewing is a beer Mecca, indeed. A rotund, 6-foot tall, Monk mannequin greets you upon entry, with a welcome to beer heaven sign at his feet. Tap handles line a ceiling of horizontal trunk-shaped beams. Natural woods, Chimay and Sierra Nevada banners, earthenware beer mugs, cigars, a jukebox, and refrigerated cases filled with 500 national and international beers are seduction enough for this Beer Fox. But further exploration led me to a bar where 30 beers are available on tap, with one additional cask beer on handpump.


Partner John Miller, with blue eyes flashing, eagerly laid out a rainbow of snifter-style glasses with Papago's award-winning beer, currently brewed off-premises using recipes designed by the partners themselves or local, renowned homebrewers. As he poured these well-crafted beers in front of me, John filled in the details of each one, digressing into the tale of Hop Dog IPA, named after his own best friend. Hop Dog, designed by Homebrewer Barry Tingleff, was brewed commercially with Papago Brewing and entered into the ProAm competition at the Great American Beer Festival in 2006. It won a Silver Medal that first year of the ProAm Competition. Hop Dog has an assertive hop character, created with the addition of Amarillo and Cascade in the boil; then dry hopped with Cascade in the final surge, leveling out at 70 IBU's and 6% ABV.

Award winning El Robusto Imperial Porter was first to touch my lips. Designed by C.B. McConnell of Little Guy and Crescent Crown Distributing, the nose on this porter danced rich with coffee, bittersweet chocolate and nuts. Its inky black body supported a creamy taupe head and eye-catching lace. In the mouth, a delicious fullness of liquid bready malts merged with coffee and more bittersweet chocolate, followed by a satiating bitterness at the end. El Robusto received the 2005 GABF Bronze Medal in the "Other Strong Ale or Lager" category.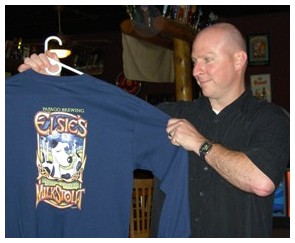 Elsie's Irish Coffee Stout features Partner Ron Kloth's dog, who is immortalized on the label, T-shirts, and other Papago beer bling. Even a deeper ebony than El Robusto, Elsie's ICS delights the olfactory senses with the creamy lactic profile of sweet Irish liqueur. Despite the aroma, it is not sweet on the palate, but rolls out as imported coffee and French vanilla bean.

Coconut Joe Coconut Coffee Stout would be a fine aperitif. A soft coconut fragrance merges with espresso, but emerges as soft chocolate, vanilla, and tropical coconut on the tongue, with satisfying bitterness that lasts long into the finish.

On the lighter side, Orange Blossom Mandarin Wheat slithers into the glass as a clear, brilliant yellow, with long legs and minimal lace. For those with a preference for coolers, sangria, or fruity mixed drinks, this "creamsicle beer" leads you astray with aromas of wheat, honey and orange zest. It has a soft fruit presence, with a gentle bitterness that tempers the sweetness to balance flavors. Off the record, John Miller revealed the "secret ingredients" that bring forth such distinctive flavor, but that conversation will remain in my personal journal and is not for the public domain.

Ornament Ale, brewed by Thunder Canyon of Tucson, Arizona, captures notice with a nose of cinnamon and a powerful scent of fresh baked bread. Within the mouth, it is light, yet spicy, re-introducing the cinnamon with nuances of coriander, and again, that fresh bread presence.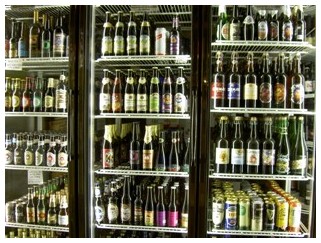 Most surprising was Winter Warmer, crafted by San Tan Brewing Company of Chandler, Arizona. Although most Winter Warmers are heavy, spiced, and dark, this one looked like amber copper-tanned flesh with a incredible brilliance and a creamy eggshell head layed across the surface. The florals and grapefruit displayed exuberance, which mirrored each other in aroma and taste. A nice dryness flashed across the palate.

Sun Up Brewing and Sonora Brewhouse in Phoenix, Arizona presented a Cask IPA, masterfully crafted by Brewer Uwe Boer, the "Big German." This eye candy featured an amber body with soft haze and creamy head that rolled like velvet on the tongue. Aromas were full of fruit – lemon, grapefruit, citrus – with a biscuit malt character. Devious Double IPA paralleled Cask IPA, but was on tap – clear, and with a gorgeous golden hue. The tartness and fruit was reminiscent of golden Belgian ale, or perhaps, Tripel. In the mouth, complexity reigned: bready, with a fruit juiciness, but balanced with enough bitterness to command the desire for more.

Oak Creek Brewing Company of Sedona, Arizona, crafted Nut Brown Ale, an American Brown Ale, dark and coppery, with a thick creamy head and sheets of lace on the glass. The nuttiness complemented the dark bready malts.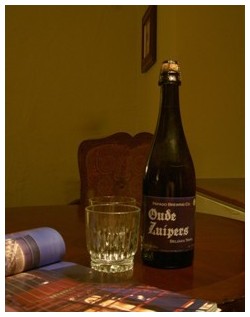 For the road, John gave me a 750 ml bottle of Papago Oude Zuipers Tripel, dramatically presented with wire cage and cork. Partner Ron Kloth designed the recipe for "Old Drunk"; then contracted Van Steenburge in Belgium to brew and bottle this beauty. It wasn't long before I found the right occasion to share this drunken girl, and she had the carbonation of New Year's champagne. Just loosening the wire cage was enough to propel the cork to the ceiling, with wild effervescence surging into the glass. Her body was brilliant light orange, with a thick, creamy yellow head and sticky rows of lacing. Tart fruit and Bret aromas emerged, settling within the olfactory passages and on the tongue. At 11% AVB, it was smooth and beguiling, and could easily catch you, unaware of its power.

As a side note: Papago Brewing has an active Pub Club. Original pub-ware consisted of clay-fired replicas of pottery-style mugs from an archaeological find. So unusual were these "mugs," that they consistently disappeared into the hands of admiring kleptomaniacs, so the design was discontinued, and regular mugs substituted.

As icing on the cake (or head on the brew, if you prefer), Papago presents, and participates in, events of significance in the beer community. They have hosted the West Coast Bocce Ball Tournament for Dogfish Head Craft Brewery; the New Belgium launch of Ranger Beer; a panel discussion of Extreme Beers presenting Sam Calagione, Vinnie Cirluzo, and Adam Avery; release parties and tasting parties for a cache of well-crafted micros ... all in support of their lofty motto: "no crap on tap."

Cheers!

Photos are (from top): Papago Monk greeting patrons to Beer Heaven; Partner John Miller of Papago Brewing; Bald Eric shows-off Elsie's Irish Coffee Stout T-shirt; Beer Cases of high end beer at Papago, where 500 beers are available in bottles for the beer connoisseur; Papago Brewing Oude Zuipers Tripel