Cooking the East African Way
is a great introduction to cooking food from East Africa. This cookbook contains recipes from Kenya, Ethiopia, Uganda, Tanzania, Eritrea, and Somalia. The authors carefully explain the food culture of East Africa. For example, how many East Africans only eat once or twice a day and eat very fresh food due to the lack of electricity and refrigeration.
This book is geared to Americans who want to learn to make East African recipes so the recipes use American measurements, utensils, and methods. There are two sample dinner menus in this cookbook along with the shopping list for each dinner menu.
Cooking the East African Way
includes basic cooking instructions and explanations of cooking equipment, terms, safety, special ingredients, along with low-fat cooking tips and metric conversions.
Cooking the East African Way
includes the following recipes:
Chapatis (from Kenya, Tanzania, and Uganda)
Rice Pancakes (from Kenya)
Meat on a Stick (from Ethiopia, Uganda)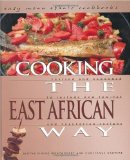 Samusas
Avocado and Papaya Salad
Greens with Coconut Milk (from Kenya and Uganda)
Plantains
Choroko Sauce (from Uganda)
Groundnut Sauce
Banana and Meat Stew
Luku (from Ethiopia)
Meat Curry
Fresh Steamed Fish (from Uganda)
Vegetable Casserole (from Uganda)
Pilau
Vermicelli and Raisins (from Kenya)
Kashata
Ethiopian Flatbread (also known as injera from Ethiopia)
Rice with Fish (Wali na Samaki)
Lamb and Rice (Skudahkharis)
Lentil Salad (Yamiser Selatta)
East African Plantain Soup (Supa ya Ndizi)
This is a great starting cookbook for East African cooking. There are color pictures for almost every recipe along with clear instructions and cultural explanations.
Two recipes missing from this cookbook are the recipes for ugali and sukuma wiki. These are two staple dishes in Kenya that are eaten almost every day. I have included links to those recipes at the bottom of this article.
Cooking the East African Way
is available at Amazon.com
This copy of Cooking the East African Way was purchased by me with my own funds.