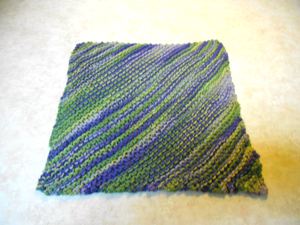 This washcloth is knit on the bias – meaning that it is knit in rows that go diagonal across the piece. This allows you to make squares easily, as once you increase to your desired width, you begin decreasing and you have a perfect square at the end. Bar increases are the increases used in this project, as they will be most invisible. SSKs are used to give the correct left slant decrease as the project is continued. This is an excellent choice for beginners or anyone looking to make gifts in a hurry. You can even knit up several of these handy washcloths for yourself in a short amount of time.
The garter ridges make the knitting quick. Purl stiches often take a little more time to knit, since this item has no purls, it knits up really fast. The ridges also provide a nice texture that is great for scrubbing and cleaning. The cotton yarn that is used won't scratch your Teflon pans, or overly exfoliate your skin if you use these washcloths in the bathroom.
Worsted weight cotton yarn is available at most large craft retailers and also at many smaller local yarn stores. Several colors and prints are available to help you coordinate to décor or personal taste.
Size:
10 inches square,
Materials:
1 2 ozs ball of Sugar-n-Cream yarn. A 100% cotton worsted weight yarn could be used as a substitute.
Recommended Needles:
Size 5, or the size you need for the proper gauge.
Recommended Gauge:
4 stitches and 6 rows per inch
Abbreviations:
CO – the number of stitches to cast on and begin with.
M1 – Make 1, or increase by one stitch. For this project, bar increases are recommended.
SSK- Slip, Slip, then Knit the slipped stitches together, creating a left slanted decrease.
BO – bind off
If any of these increases or decreases are new for you, see the related links below for tutorials.
Pattern Instructions
CO 3 stitches. *Turn, and M1 and knit to end of row.* Repeat between * until straight edge measures 10 inches long.
Now it is time to begin the decreases. At beginning of each row, *SSK, knit to end of row and turn* Repeat between * until only three stitches remain. SSK, then BO the last 2 stitches. Weave in all ends.
Conversational Instructions
Begin by casting on 3 stitches. At the beginning of each row, make an increase in the first stitch, then knit the remainder of the row. Continue to increase at each row beginning and knit each row until the straight edges measure 10 inches long. You will have a garter ridge triangle on your needles.
Once you have knitted your triangle, it is time to complete the square by beginning each row with a left slanted decrease. Knit the left slanted decrease by using an SSK stitch at the beginning of each row until you have only three stitches remaining. On the very last row, SSK the first two stitches, and then bind off with the remaining 2 stitches.
Weave in the ends. You may wish to block the washcloth so that it will stay a perfect square.
These washcloths are simple and quick to make. Once you understand how to knit a garter ridge bias square, you can adapt this pattern into almost any square piece you wish. You could use a soft baby yarn and knit a larger square baby blanket. You could knit a series of squares and sew them into an afghan. You could knit a square in a favorite yarn for a throw pillow cover.