Hello, and welcome back! The blue sky outside my office window is gorgeous, but the wind that's whipping the branches on the maple tree is making it a little too chilly to get out and plant the flowers waiting on my porch, but tomorrow....

Just a reminder: April 30, 2003 is the final date to get your reader surveys to me to have your opinion counted. I still want to send the results of this survey on to the major romance publishers, and big numbers of participants would make it more likely to be taken seriously by them, so please consider taking a few minutes to complete the survey. Thank you so much!


First up this week is Nora Roberts's new one,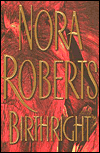 Birthright (Putnam). When a construction crew digs up a human skull, Callie Dunbrook has no idea it will change her whole life and everything she thought she knew about herself. Nor is she happy when her ex-husband Jake Graystone arrives as part of her dig crew. Along with threats from those in the community who'd like her crew gone so their jobs will remain safe, Callie has to deal with a strange woman who claims Callie is her long-lost daughter, stolen from her stroller when she was three months old. I can't even imagine how something like that would turn my life upside down, but reading this book you get an idea by following the things that Callie must face. Then, too, Jake wants her back, complicating her life even more, but Jake is quite a delicious complication. Lots of real emotion, flashes of laugh out loud humor, and just a great story, as usual. Of Cupid's five arrows, I'm borrowing four and a half. Can't wait for the next one.


The other book I read this week is Lynn Kerstan's

Heart of the Tiger(Onyx). Mira Holcombe is in for a shock when she first lays eyes on Michael Keynes, brother of the vicious Duke of Tallant, for he resembles his brother more than is comfortable for her. The only thing they have in common is their need to bring the Duke down. Of course, the death of his brother only causes more complications for the pair. I really loved the first book in this trilogy, with its steamy attraction between the hero and heroine, but I didn't get the same feel with this book. Of course, Mira has perfectly good reasons for not being interested in that sort of thing, but that aspect of the story left me disappointed. Otherwise, it's an engaging read, with unexpected twists and turns. I'm giving it three and a half arrows. I look forward to reading the final book in the trilogy.


Don't forget to pop by the forum to talk about romance novels, authors and more. Plus you never know when I might get another book for giving away! As always, I look forward to hearing what you think of this week's books.


Until next week, happy reading!