Project Information: • Skill level: Basic • CorelR JascR Paint ShopTM ProR 9 • General tips

Once you have completed your image in Paint ShopTM ProR, it will still be in the Paint Shop Pro format (.psp). If you plan to use this image on the web, you will want to save the image as a JPEG image using the built-in JPEG Optimizer feature. Click File > Export > JPEG Optimizer. Set the following values in the JPEG Optimizer dialog box.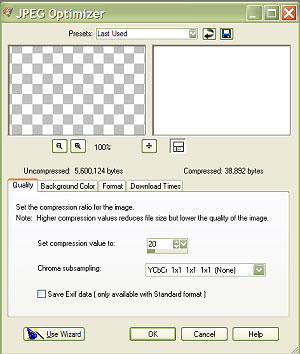 JPEG Optimizer Dialog Box


On the Quality tab:

Set compression value to: 10 or higher

The higher the number you use here will result in a smaller file size. But with that smaller file size comes less quality in your image. Try several numbers here until you find the number that gives you a good balance between quality and file size. You can use the preview in the window on the right side of the dialog box to observe the change in quality to your image when using different numbers for the compression value.


On the Format tab:

Set "What type of file do you want?:" to Standard


On the Download Times tab:

When you have decided on a compression value that is best for your image, this tab will tell you how long it will take for your image to download.


JascR material used by permission of Jasc Software, Inc. Copyright ©1997-2000 Jasc Software, Inc. All Rights Reserved. Paint Shop Pro, Animation Shop, Paint Shop Photo Album, Paint Shop Pro Studio and Jasc are registered trademarks of Jasc Software, Inc.