There's nothing like candles to light up a spooky night such as Halloween. Make this luminaria from black cardstock and orange vellum for some candle light fun!
You will need:
* Black cardstock, 12 by 8 inches
* Orange vellum, 4 by 4 inches
* Pencil
* Ruler
* Scissors
* Narrow double-sided tape
* Glue stick
Optional (for embellishment):
* Orange paper, 1 by 4 inches
* Flower punch
* Craft glue
Measure, mark and cut a piece of black cardstock that's 12 x 4 inches. Starting from one end of the cardstock, make marks at 3-3/4 inches, 7-1/2 inches, and 11-1/4 inches. Score and fold across the cardstock at these points to divide the cardstock into three sections that are 3-3/4 inches wide, and one tab that is 3/4 inch wide.
In the middle section, cut out a wavy window about half an inch from the edges. It doesn't have to be perfect – in fact, the cruder it is, the creepier! Next, measure and cut the orange vellum into a 3-5/8 inch square. Apply some double sided tape around the edges of the vellum, and then stick the vellum to the inside of the window. From the excess black cardstock, cut out letters with a scissors to spell the word "Boo!" Again, the letters don't need to be perfect. Use a glue stick to adhere the letters to the front of the vellum. Assemble the luminaria by using a strip of double sided tape to attach the tab to the other end of the cardstock (make sure that the tab is inside).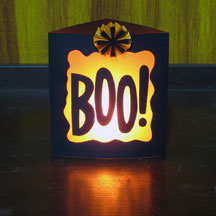 At this point you can leave the luminaria as is, if you prefer a minimalist look. You can also embellish it further if you wish. In our example, I've used a fan-fold flower. Take a strip of orange paper that's 1 inch wide and 4 inches long. Accordion-fold the strip so that you end up with about 16 sections. (The trick is to keep folding the strip in two, so that you divide the paper into halves, then quarters, then eighths, and finally sixteenths – then accordion fold the sections.) Next, fold the wad in half, first one way and then the other. Find one end of the strip, and join its two halves with double sided tape. Repeat with the other end of the strip. Fan out the paper to form a circular shape. Punch out a flower from black cardstock and glue it to the middle of the fan-fold flower. Attach the fan-fold flower to the top of the luminaria. Use the luminaria with a tea light candle – but be sure not to leave any lighted candles unattended! Happy Halloween!