Winters are long in Germany and, especially in Bavaria but spreading all over the country, from early Spring through the Summer and Autumn, it is
Biergaerten
time. Sitting at simple tables shaded by chestnut trees, eating and drinking while enjoying the outdoors, and often deep into the night.
Hardly changed since the beer garden tradition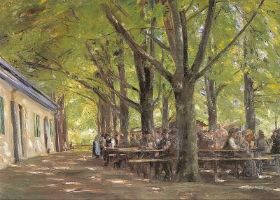 officially began in 19th century Bavaria, in 1812 during the reign of King Maximilian I, it's one of those customs which has never gone out of fashion.
From the 16th century there had been a law that dark beer, the most popular variety, must be brewed only during colder months, from St. Michael's Day, 29th September, until St. George's Day, 23rd April. As a way to work around these rules some of the brewers moved to the banks of the River Isar just outside Munich, and there they dug deep cellars in which to store their beer during the summer months.
These were also filled with ice taken from the frozen river during the winter and then, to ensure the earth remained cool, trees were planted over the cellars. The chestnut tree, which had originally been introduced into Germany by the Romans, as their large leaves would give the best protection against the Bavarian summer sun.
As an additional safeguard against the heat gravel was spread over the area covering the cellars. Just as it had in Munich the selling of beer to be consumed elsewhere continued.
It was some years later before large basic wooden tables and benches appeared, customers decided to stay rather than
arrive, buy and leave
with their
Masskruege
, two pint containers, and before too long a visit to a rustic Beer Garden by the Isar had become a fashionable, and popular, outing.
Meanwhile, because a beer garden was open and enjoyed by anyone who was interested, it also crossed the rigid social boundaries of the day.
Maximilian's son, King Ludwig I, whose wedding in 1810 had been the reason for the first
Munich Oktoberfest
, had to deal with the complaints of inn keepers, who had enjoyed a beer selling monopoly, and those brewers who had not left Munich, when the 'out of town'
Kellerbiergaerten
, cellar beer gardens, badly affected their businesses.
He created a law allowing drinks to be sold in the countryside beer gardens but banning the serving of any food. This meant any one who wanted something to eat with their cold beer had to bring a
Brotzeit
, a snack, with them, which was an idea that the Biergaerten owners naturally supported, especially it is usually meant that their customers would also drink more.
To this day the beer garden culture and custom remain. It has spread across the country and is ever more popular, although the only remaining beer
cellars from the era are
Paulaner-Beer-Garden
and the
Hofbraeukeller in Munich
. The type of beer and size of the beer glass varies according to the region, with a beer glass in northern Germany containing 0.5 liter, about a pint, while in Bavaria the usual size is a "Mass" which holds a liter or two pints.
But then in Bavaria beer is classed as a "food".
King Ludwig's law is no longer valid and there is always a choice of all types of simple, regional, traditional German food available at any beer garden, not only to satisfy the home grown visitors used to their own cuisine, but also the many tourists and travelers who have a 'visit to a Beer Garden' on their bucket list.
No longer just the "Cold Snack" from the King's days, beer garden food can range from
Steckerlfisch
, grilled fish on a stick,
Gebratene Rippchen
, Pork ribs,
Swinehaxe
, pork knuckle,
Weiss Wurst
, Bavarian veal sausage with sweet mustard, to
Reiberdatschi
, potato pancakes,
Obatzda
, a mixed cheese combination, extra large
Brezeln
, Pretzels, and slices of white radish.
Although many beer garden patrons follow the tradition as it was originally intended, order beer or another beverage and bring a small snack from home, one they have purchased, or choose something from the beer garden menu, increasingly others are taking advantage of the situation.
Every weekend visitors will arrive carrying cool boxes filled with prepared meals, and overflowing bread baskets and cheese plates, or order a take-away Pizza from the local Italian to be delivered to the beer garden, set out table clothes and silverware and take over several tables. One for their buffet, and one for themselves.
Some even bring their own drinks, with the excuse for example that they like Rhubarb and Strawberry Cocktail and this is not offered on the beer garden menu.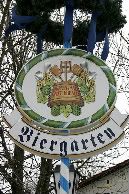 As a result they are there only to make use of the Biergarten tables, and it is known as the annual
Kampf um die Brotzeit
, "fight over the snacks". Now publicans are beginning to throw out those people who they see as breaking the rules of the custom, including bringing too much food.
Of course the bringing of beverages is definitely not part of the tradition, however what constitutes "too much food" is a debatable point, the truth of which is only known by the chestnut trees that have shaded visitors enjoying the
"Gemuetlichkeit"
of beer gardens for generations.
Max Liebermann, Country Tavern at Brunnenburg,1893
, oil on canvas, currently in Musee d'Orsay, Paris,
Beers from different regions
,
Beer Garden Sign on Bavarian Maypole in Southern Germany
, photographer Nino Barbieri 2006, all courtesy de.Wikipedia
German Drinking & Beer Garden Songs: Beer Gardens in Germany have their own songs, and this is the ultimate selection. In German but it does not seem to matter, the music, rhythm and background party atmosphere are all you need to be transported to a Bavarian Beer Garden. Includes the famous, 'In Munich Steht ein Hofbrauhaus', the title of which loses something after being carefully translated to 'In Munich Stands A Royal Drinking House'. Just Wunderbar.
Exactly like the ones in a Beer Garden or the Munich Oktoberfest, this is a genuine 1 Liter HB "Hofbrauhaus Munchen" Dimpled Glass Beer Stein
And here you will find the "Masskrug" or Mass krug with the traditional Hacker-Pschorr logo, the other remaining original brewery
For topics in the news

And you can follow German Culture on Facebook