In a never ending cycle from spring flowers through winter greenery and berries, beautiful hanging
baskets, containers and window boxes, overflowing with flowers, evergreens, trailing vines, ivy, pelargonium, bushes and berries, decorate windows and balconies in Germany
Some are hundreds of feet in the air on large apartment blocks, others accessorize trendy apartments in upscale districts, small apartments and houses in narrow streets or hang from every floor on many large prestigious villas as well as most farm houses.
From adorning stores and restaurants of every description to banks, hospital entrances and railway stations, flower filled containers are to be found everywhere.
Given the love of nature and forests in German culture since pre-Christian days, and one reason why so much of the country's land is left to nature, wild spaces and protected areas is that most people do not live in houses with gardens but in apartments, it is easy to understand Germany's "Blumenkasten" and balcony garden culture.
It was in first century Rome that
Pliny the Elder
, a Roman philosopher, wrote about window boxes as,
'every day the eyes might feast on this copy of a garden, as though it were a work of nature'
, and when the Romans swept through Europe bringing with them everything from chestnut trees to asparagus they also brought the
'window box'
.
Wherever it is possible just to see a little piece of sky in Germany advantage is taken of all the options.
A dense mass of hanging red alpine geraniums is the most popular choice for window boxes for the pastel colored exteriors of homes of sunny Bavaria, which even in the summer often have snow covered mountains in the background, but throughout Germany planning the seasonal window boxes is almost an art form.
Filled by plants of different heights, colors and textures,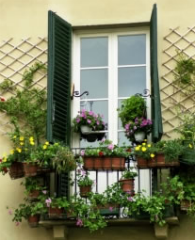 or mixtures of roses and lavender with trailing ivy. Annuals such as pansies with their upturned faces, especially for the winter months, or petunias mixed with the permanent plants or grasses which can over winter and form a background to an ever changing display, blocks of impatiens together with rambling evergreens for shady areas. The combinations are not only decorative, they can sometimes verge on the eccentric.
However each flower box is designed to take into consideration whether it will be sitting on an East or North balcony, window ledge or door step, or one that faces South or West, and plant centers carefully label
'what goes best where'
.
With the arrival of winter both balconies and window boxes are transformed once again. Spruce, fir and holly are interspersed with winter flowering pansies or Christmas roses, the bulbs for spring lying in wait and usually having doubled in quantities during summer, while for advent and the Christmas period the mini gardens suddenly become fabulously festive with the addition of lights, candle powered lanterns, additional varieties of evergreen twigs and anything with red or white berries or pine cones.
For the summer months
'edibles'
, vegetables: zucchini and tomatoes, edible flowers, berry shrubs and fruit trees, come into their own. Experience having proved that not only are these nutritious and decorative, as long as they are looked after and have the correct soil conditions, they don't much care if they are in a pot or a garden.
In Roman days a container with medicinal herbs was usually included somewhere in the mixture, whereas today there is often a special herbal window box, or on a German balcony landscaped with its different ornamental tubs, pots and containers, one, or more, which will be filled by the favorite herbs ideal for kitchen extravaganza's or grill evenings. Especially basil, thyme, rosemary, sage, marjoram or oregano, chives and mint.
It is not at all unusual to see squash and tomato vines laden with their crops snaking up walls and along balcony rails, while marigolds are often somewhere around. Even set in between the chili, eggplant and paprika plants, as they are great at discouraging mosquitoes on those balmy summer evenings when there can be no better way of passing time than sitting with a glass of wine by an open window, or outside with both wine and a glowing barbecue.
However this is Germany, so there are rules to be
followed for balcony living, whether it is a exclusive block or an apartment house.
A balcony covered with visible 'junk' is a definite
'no no'
, so those unloved bits and pieces had better find another home.
Grilling is allowed, as long as it is not forbidden by local rules or the rental agreement, however it has to be powered by gas or electricity, not glowing charcoal.
After 10 pm there can be no further noise, not even hushed whispers, and the only aromas allowed must come from flowers not grilled sausages.
Window boxes are to be fixed so water cannot drip on a balcony belonging to neighbors living below, or onto passersby on the sidewalk, and they also have to be firmly attached with special hooks and fasteners so that not even the strongest wind will move them.
Despite Germany gradually becoming a 'no smoking' country, you can light up your cigar, pipe or cigarette on your balcony but just make very sure that no smoke blows in the direction of your neighbors and disturbs them. Although of course you will no doubt be forgiven if they are also smokers, and out there at the same time.
With centuries of tradition behind them to Germans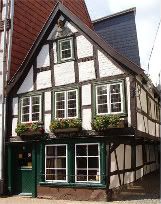 'gardens in boxes'
are a way of life, but invariably visitors are captivated by the seasonal displays in pampered window boxes and containers which appear in every size of town or village, or simply along a country road, bursting with trailing vines and colorful flowers.
The use of color, textures and accents adds beauty to both city and landscapes, and, even when they do not happen to be in one of Germany's many medieval villages, nevertheless giving a thoroughly modern country a feeling of old world charm.
IMAGES: Farmhouse in Baden-Wuerttemberg, BW Tourismus - Muehlen-Freilichtmuseum Trachtenhaus, Lueneburger Heide, photographer and owner Suedheide Gifhorn GmbH (GHN) - The oldest building in Schwerin, Germany, built in 1698, timber framed and with window boxes - photographer Rosentod, cleaned by Schiwago, courtesy de.Wikipedia
Inspired by Germany's flower box culture? Then Window Boxes: Indoors & Out - is the ideal guide for small scale gardening inspiration, even for those who so far have only ever succeeded in killing everything they have ever planted
For topics in the news

And you can follow German Culture on Facebook