Currywurst
has enjoyed cult status as a German fast food snack for 65 years. More than 800,000,000 are eaten every year and of those 70,000,000 are consumed in Germany's capital Berlin, believed to be its "Birthplace".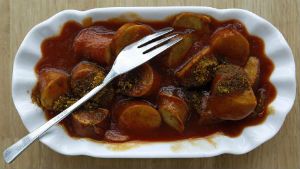 Herta Heuwer
, a shop assistant at the 'KaDeWe' Berlin's biggest store, was a
Truemmerfrau
, 'rubble' woman, one of many who used little more than basic tools and their hands to clear away the wreckage left by war, and
in her Charlottenburg kitchen
she experimented with typical British cookery ingredients that had some Indian influences, and which she had found in the British armed services NAAFI.
The 'Navy, Army and Air Force Institutes' is Britain's equivalent of the PX, BX and NEX, and Charlottenburg was a part of Berlin's post war British military sector in 1949.
She mixed together Worcestershire sauce, spices and ketchup, blended this with cooked tomatoes and onions and made a warm spicy sauce to cover deep fried sliced Knackwurst (Knockwurst).
By trial and error Herta had created a recipe for the first Currywurst.
A touch of the colorful and exotic combined with the familiar that brightened up life where all meals were influenced by postwar rationing, and when she died in 1999 Herta Heuwer took her secret recipe with her, not even her husband knew the ingredients.
Served with fries or bread, mustard, onions, very spicy, not so spicy, Bratwurst, a mixture of pork and beef, Knackwurst, similar to a short fat frankfurter, or a vegetarian sausage, there is one thing most 'currywurst fans' agree upon. The recipe can have ketchup as a base but there should be so many other ingredients that it is unrecognizable, because an authentic Currywurst is never served with ready made ketchup and a sprinkle of curry powder.
I never had the chance to try a genuine Herta Heuwer Currywurst, but here is a recipe from a friend in Berlin who did enjoy them many times and she says this is the curry sauce nearest to the original of her memories.
THE RECIPE
-
A tasty and nutritious Currywurst Sauce which can be used for all types of dishes
2 large red or yellow onions chopped very finely
2 400 gr cans tomatoes with juice
250 ml ketchup
1 tablespoon mustard
2 tablespoons sugar
4 tablespoons Worcestershire sauce
1 tablespoon paprika powder
2 tablespoons curry powder
1/2 teaspoon chili powder
salt and pepper to taste
1 tablespoon oil
Warm oil over medium heat
Put onions in pan and cook over medium heat until soft, 8 to 10 minutes
Add curry powder, paprika powder, chilli powder and continue to cook while stirring, for one to two minutes
Add tomatoes and juice to pan and crush thoroughly, stir through
Stirring add ketchup, Worcestershire sauce, sugar, mustard, salt and pepper to taste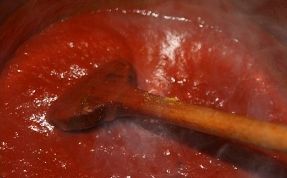 Bring to boil and lower to simmer, stirring occasionally until thickened. 20-25 minutes.
Puree mixture in blender and strain through a sieve.
Makes at least 500 ml of sauce.
Grill or fry sausages, which can also be the vegetarian tofu based variety, slice and cover with warm sauce.
To the sauce covered sausage add additional Paprika powder, Salt, Pepper, Chili Powder, Curry Powder, Mustard or finely chopped onion to taste.
Serve with fries, and if serving in a bun put in place after slicing.
And G
uten
A
ppetit
!
For topics in the news

And you can follow German Culture on Facebook
Illustrations: Currywurst Berlin style via Erasmus Blog - Curry sauce courtesy Mettsalat.de
Of course if you would like to have your own Currywurstschale they are easily available from Amazon.de who send to the USA and many other countries.
While
Here are German Style Nurnberger Original Bratwurst or Curry Bratwurst from Wisconsin, and friends who have tried them said it was like being back home.