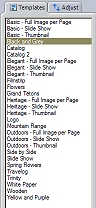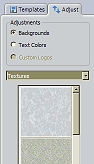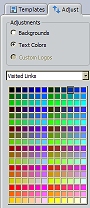 Templates and Adjust Tabs


Step 5. Choose a template. On the Menubar click Share > Create Web Gallery to open the web gallery template workspace. On the left is a list of the pre-installed templates. Click on each one to view the style/theme. You have several style/ themes to choose from including holidays and special occasions. As you browse through the templates you will notice that some of them have a homepage that displays thumbnails and these thumbnails are links to the individual gallery pages. And others omit the homepage and have just the individual gallery pages.

Step 6. Customize the template. After you decide on which template is use for your web gallery, you can customize the template further by changing the background color/image, the text color and logo.

Click on the Adjust tab. Now click on the Backgrounds button and use the drop-down list to make your changes. Repeat this for the Text Colors. If your template offers the option of a custom logo you can click on the Add Image button to add your custom logo to the gallery. When you are done click on the Templates tab again.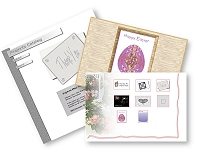 Gallery Templates


Now that you have everything just the way you want for your web gallery, you are ready to create the web gallery pages.

Step 7. Save your gallery pages to your hard drive. On the Menubar click Save > Save to Drive. This will open the Save HTML dialog box. Use the Browse button to locate the place on your computer where you wish to store these web pages. Then click OK. When you get the Save Completed message, click OK again.

The program has now done all the work necessary to create your web gallery. It has converted your images from the Paint Shop Pro format to the jpg format for the web. It has created thumbnail images for each of the images in your gallery. It also has created all of the HTML web pages for your gallery. Finally it has created additional images needed for the background, buttons and headers. It has placed all of this in a folder called PSProAlbum. It is ready to be uploaded onto your website.

← Back



JascR material used by permission of Jasc Software, Inc. Copyright ©1997-2000 Jasc Software, Inc. All Rights Reserved. Paint Shop Pro, Animation Shop, Paint Shop Photo Album, Paint Shop Pro Studio and Jasc are registered trademarks of Jasc Software, Inc.