Guest Author - Deborah Adams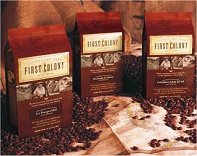 First Colony Coffee and Tea review
Sip a cup of some of the finest coffees and teas by First Colony, sit back and put your feet up because you are in for a treat! Using select beans these folks know how to combine flavors for the best experience in coffee and tea I've enjoyed in a long time. My personal favorite is the Southern Comfort Cherry Creme tea that comes in a charming old-fashioned looking tin. Their description "Creamy vanilla mixed with the taste of juicy cherries. Long lasting flavor and sweet aroma." fits all too well.
They offer many varieties of coffee and tea. With names like "Southern Comfort", "Ghirardelli Chocolate", "Colombian", "Jack Daniel's® Collection", "Organic Ghirardelli®" and many more in relation to the First Colony coffee's and Teas you know you are going to have a taste sensation and a wide selection of flavors!
Jasmine, Apricot, Raspberry, Irish, French Vanilla, Mango and Cinnamon are just a small selection of some of the flavors of teas offered. Some of the coffee's available include Hawaiian Kona, Mocha Java, Espresso Roast, Caramel Classique and Viennese w/ Cinnamon to name just a few.
These folks have a grand selection of coffee and tea if you are looking for something special for yourself or for guests at your next event.
Visit them and see what all they have to offer!