Guest Author - Deborah Adams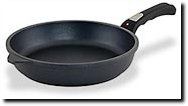 PCD - Professional Cutlery Direct Cookware
This company carries many resources for the professional and personal cook.
One product from them that I can personally share with you is the Swiss Diamond 10MM 11" Non-Stick Frypan. This product is solid as a rock! This Swiss Diamond Frypan measures 11" in diameter by 1.5" high. and is made to last and of high quality material including real diamond crystals that create a virtually indestructible non-stick surface. The heat is distributed evenly and this pan is very sturdy. The stay-cool handles are comfortable and have finger and thumb grips plus they are heat resistance in the oven up to 450º F. They are made from hand-cast aluminum that is 10-mm thick and because diamonds conduct heat (even better than copper), the coating contributes to the pans' performance. Swiss Diamond invented this technology and is the only cookware manufacturer that uses it. The interior pan color is a steel gray rather than the more traditional black, which allows better visibility of what's going on in the pan - helpful when you're caramelizing pan juices. I love this pan because it has exceptional quality and function and is made so well it will last for years to come. This is professional quality and would be a wise investment for anyone.
Other products offered by Professional Cutlery Direct include: Cutlery, Cookware, Chef Essentials, Collections & Collectibles (Including Italian Pewter, Hand-Painted Polish Stoneware, Glassware and Pocketknives), Kitchen Accessories, Preparation items, Cooking, Gourmet Foods, Serving and Entertaining, Coffee, Tea & Breakfast, Baking, and Kitchen Accessories.
They carry many brand names such as Bourgeat, Berndes, All-Clad, Demeyere, Kuhn, Sitram, Swiss Diamond, Viking and more.
If you are looking for any product these fine folks probably have it! They carry quality items and it would be worth a visit to see all that they offer. Visit
Professional Cutlery Direct at www.cutlery.com
today and see for yourself.