Guest Author - Deborah Adams
Smoke in the Mountains Cookbook: The Art of Appalachian Barbecue by Kent Whitaker and published by Quail Ridge Press is a wonderful cookbook full wonderful recipes by Kent Whitaker, winner of the Emeril Live Food Network Barbecue Contest!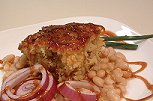 Kent's Famous Barbecue Cornbread from Smoke in the Mountains Cookbook by Kent Whitaker. This was the winning recipe in the Emeril Live Food Network Barbecue Contest. Some of the other delicious recipes you will find in this cookbook include: Rocket Boy Hot Grilled Chicken, Jeff Cook's Emerald Coast Cocktail Sauce, Parrot Head Steve's Margarita Pork, Arleta's Derby Day Dessert, Tex-Mex Baked Beans, Phillip's Smoked Chocolate Apples and many more appetizing dips and salsas, meats, vegetables, marinades, rubs, and the grand finale–desserts!
Kent "The Deck Chef" Whitaker is giving away his secrets for GREAT barbecue in his new book Smoke in the Mountains Cookbook: The Art of Appalachian Barbecue.
The cookbook is divided into sections including Preface, Special Thanks, Gettin' Fired Up (Start Smokin'), 'Que Know-How (Barbecue Basics), Now We're Cookin' (Recipes), Barbecue Jargon (Glossary), Index and a Recipe Index.
You will learn to barbecue like a pro with these tips and tricks provided in this great cookbook:
• Discover the difference between barbecuing, grilling, smoking, pit cooking, frying, broiling, and searing
• Master the meaning of common barbecue terms
• Learn which wood will deliver just the flavor your looking for
• Find out the right tools for becoming a pit-master
• Learn important safety tips for your next barbecue
• Enjoy a bit of barbecue history and other fun food history like the origin of beef jerky
• Take a trip with The Deck Chef to some of the best barbecue restaurants in the Appalachians
Quail Ridge Press offers many wonderful cookbooks and publications including the famous "Best of the Best" series of cookbooks! Visit them at
www.quailridge.com
to see all they have to offer!