Project Information: • Skill level: Basic • AdobeR PhotoshopR CS • General tips

Step 3. Draw a circle for the moon. We will draw a circle with the Elliptical Marquee tool. If the Elliptical Marquee tool is not showing in the Toolbox, click the small black triangle to expand the hidden Marquee tools. Click on the Elliptical Marquee Icon to make this tool the active tool. Now place your mouse pointer over the upper left corner of the image area. Start about one half inch from the edge. Hold down the shift key on your computer keyboard to force the Marquee tool to draw a circle instead of an ellipse. Click and drag to the lower right corner and stop about one half inch from the edge. Now you have a circular selection on your layer.
| | |
| --- | --- |
| Marquee Tools | Step 3 |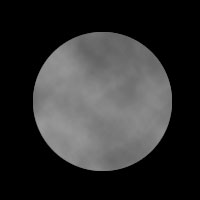 Step 4

Step 4. Paint the moon. We will use the Clouds filter to paint the moon. On the Menu bar, click Filter > Render > Clouds. Repeat this until you get the look you like for your moon. Now click Select > Deselect to turn off the marquee selection.

Step 5. Add the haze around the moon. Now we will use the Outer Glow layer style to create a haze around our harvest moon. On the Menu bar, click Layer > Layer Style > Outer Glow to open the Layer Style dialog box. We want the haze to be slightly yellow. Click on the small colored square in the Structure section of the dialog box. This will open the Color Picker dialog box. At the bottom, set the HTML # to FFFFBE and click OK. Now set the following values in the Layer Style dialog box. Note: you may want to experiment with the settings to see what other looks you can achieve.


Layer Style Dialog Box - Outer Glow

Click to enlarge
Outer Glow
Structure
Blend Mode: Luminosity
Opacity: 35%
Noise: 5%
Color: FFFFBE

Elements
Technique: Softer
Spread: 20%
Size: 80%

Quality
Contour: 2nd on list
Anti-aliased: No
Range: 100%
Jitter: 0%


Step 5
← Back | Next →



AdobeR product screen shot(s) reprinted with permission from Adobe Systems Incorporated. AdobeR, PhotoshopR and PhotoshopR AlbumTM are either registered trademarks or trademarks of Adobe Systems Incorporated in the United States and/or other countries.