Guest Author - Lori Collvins
Tired of trying to fit your over-sized bag into a locker? Or maybe you are tired of carrying a bag that fits but just doesn't carry all you need. Then you should definitely check out the Ogio All Terrain Duffel. It is a sporty looking bag that is perfectly sized for basketball players and cheerleaders! Another great bag from Luggage Pros and very high quality.
I really like this one because it is not too big or too small and is sized perfectly for fitting in a locker! It measures 23" x 11.75" x 9" and has a 3000 cubic inches capacity. Plenty of room for everything you need: It has a big U-shaped opening for the main compartment, a top drop-in CD/MP3 player pocket with headphone exit port (and everyone knows those CD players are a necessity to and from away games!) and two end compartments for shoes or dirty gear. The side storage pocket on the front of the bag is perfect for a towel and all the pockets are great for carrying extra items. Trust me, this bag is roomier than it looks!
The quality of this Ogio All Terrain Duffel is everything you would expect from an Ogio bag. This bag is made of weather-resistant rip-stop nylon and heavy duty polyester and features a reinforced base. It has a padded handle wrap for a comfortable grip and the adjustable padded shoulder strap is comfortable as well. It also has metal grommets for air circulation inside the bag.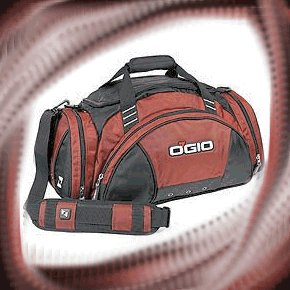 The Ogio All Terrain Duffel is available in four different colors; black, stiletto, burgundy, and dijon, and it is everything you would expect a high quality duffel to be!
It's a great design, a great value and a great bag that is perfectly sized for the gym. So check out the
Ogio All Terrain Duffel
from
LuggagePros.com
and look around while you are there. The Luggage Pros store first opened in 1974 in the Minneapolis, Minnesota area. Their philosophy was as simple then as it is now: Quality products and exceptional service and prices. The quality of their products proves that they still hold true to that philosophy. They carry a wonderful selection of bags and I am sure that you will find something you love! I did! See you on the court!