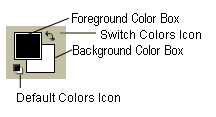 Next we need to choose a color for the rectangle. Click on the Foreground Color Box to open the Color Picker. Pass your mouse cursor over the bookmark and it will change to an eyedropper. With the eyedropper click on a color that you like from the background photo. This will set that color for the Foreground color.



Paint Bucket Tool Icon
Now use the Paint Bucket Tool to fill the rectangle with the color. Next go to the Layers Palette and set the Opacity to 75%. Finally, click Select > Deselect.




Horizontal Text Tool Icon
Step 6. Add Company Name. You are ready to add your company's name to the rectangle. Click on the Horizontal Text Tool and set the following values in the Options Bar.

Font - Arial
Style - Regular
Size - 24 pt
Anti-aliasing - Sharp
Align - Center
Color - Black or dark color

Click in the center of the upper part of the rectangle but not too close to the upper edge. We need to allow some room for the warped text effect. Type in your company's name.



Create Warped Text Button
Go to the Options Bar and click on the Create Warped Text button which will open the Warp Text dialog box. Choose a Style from the drop-down list and set the Bend to 20%. When you like the results, click on the checkmark in the Options Bar to set the text effect.

Step 7. Add Web Address. You should still have the Horizontal Text Tool selected. Click in the center of the lower portion of the rectangle area. Set the Font Size to 12 pt in the Options Bar and type your web address. Click the checkmark again to set this text.

Step 8. Save Your Bookmark. Use the Save For Web feature in Photoshop to save your bookmark in jpeg format for the web.

← Back



AdobeR product screen shot(s) reprinted with permission from Adobe Systems Incorporated. AdobeR, BridgeR, IllustratorR, PhotoshopR and PhotoshopR AlbumTM are either registered trademarks or trademarks of Adobe Systems Incorporated in the United States and/or other countries.