Guest Author - Deborah Adams
Remember Jed and Granny, Jethro and Elly May? The theme of this cookbook is the wonderful Beverly Hillbillies.
Granny's Beverly Hillbillies Cookbook By Ken Beck, Jim Clark
is a collection of best-loved recipes that hail from the Ozarks where the Clampetts came from, also from Tennessee (Granny's home) and even the real Bugtussle!! They even went on to include recipes from Texas oil-man style and Tulsa area recipes where the O.K. Oil Company that purchased the oil on Jed's land was headquartered!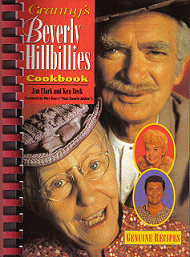 This cookbook is published by Rutledge Hill Press and is a soft cover book with comb binding and laminated cover for easy clean up. It starts with an Acknowledgment and a Foreword by Max Baer (Jethro) and goes on to include the cast and history then Info on Granny and where Jed stuck it rich. Several menus are offered for various celebrations and among the pages in the book are bits of trivia and many black and white photographs of the staff and show with information. They also include bits of dialog from shows.
Chapters in the book include:
Thank You Folks for Kindly Helpin' Out
Foreword
Introduction
The Beverly Hillbillies Cast and History
About Everyone's Favorite Granny
Where Did Jed Strike It Rich?
Menus
Appetizers
Beverages
Granny's recipes
Soups
Salads
Breads
Entrees
Grits, Eggs, and Cheese
Side Dishes
Bugtussle Recipes
Desserts
Condiments
Index
In Praise of the Pawpaw
A Good Cause for Playing Possum
Some of the recipes offered in this cookbook include: Granny's Nerve Tonic, Crawdad Gumbo, Corncob Jelly, Jest Plain Ol' Apple Pie, Big Hollywood Agent Cheese Soup, Mountain Dew Salad, Jethro's Oatmeal Loaf, Cousin Roy's Rolls, Beasley's Beefy Rice Pie, Porcupines, Farm Livin' Vegetable Meatballs, Meanderin' Duck, Hooter-Veal Pork Casserole, Buffalo River Trout, Pot Passer Possum and Sweet Taters, Ozark Corn Casserole, Robert E. Lee Tomato Pie, Silver Spoon Bread, Black Gold Chocolate Pie, Southern Caramel Pie, Eat More Persimmon Pie, Dish Pan Cookies, Cusp of Capricorn Caramel Dumplings, Front Porch Bread and Butter Pickles, Apple a Day Butter and many more!
This is a great cookbook for Beverly Hillbillies fans or for anyone who likes a down home cookin' cookbook! If you'd like to check it out visit the site at
www.thomasnelson.com
and get a copy of this great addition to any library!