Step 4. Layer three. Repeat the previous step for a third layer and star. This time you will want to make the center star even bigger then before and then drag the star to the lower right of the Artboard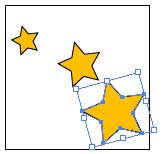 Layer Three

Step 5. Export as SWF file. Now you are ready to export your image as an SWF Flash animation. From the Menu bar, click File > Export and set Save as type to Macromedia Flash .SWF in the Export dialog box. This will open the next dialog box. Set the following values.

Macromedia Flash (SWF) Format Options Dialog Box
Export As: All Layers to SWF Frames
Generate HTML: Checked
Animation Frame Rate: 12 fps
Looping: Checked
Curve Quality: 7
Image Format: Lossless
Resolution: 72 ppi

Variation: You might want to try a simple variation on the animation. With each star your draw, set the transparency value to a different (progressively darker) value. This will give the appearance that the star is moving closer with each frame. You can set the transparency value in the Transparency tab in the Color palette.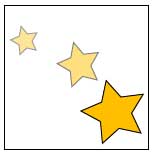 ← Back

Adobe Illustrator CS2 Workspace


AdobeR product screen shot(s) reprinted with permission from Adobe Systems Incorporated. AdobeR, PhotoshopR and PhotoshopR AlbumTM are either registered trademarks or trademarks of Adobe Systems Incorporated in the United States and/or other countries.