Guest Author - Elizabeth Darrach
Hello, and welcome back! We're only halfway through the month, but I've read my way through the last of the January releases already and am about to dive into the first of the February titles.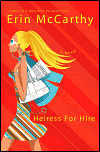 Heiress for Hire (Berkley) by Erin McCarthy is up first, with a return trip to Cuttersville, Ohio. This time out, farmer Danny Tucker takes on pampered princess Amanda Delmar after her father cuts her off. While Amanda has the potential to be highly annoying, she isn't. I liked Danny far more, however he doesn't have much to overcome as far as their relationship goes--he's pretty much the perfect guy. Amanda has a lot more work to do, though, and she does an admirable job of it throughout this one. While it's not my favorite McCarthy, it's a keeper. I'm giving it four of Cupid's five arrows.

Valentine's Day Is Killing Me (Brava) has stories by MaryJanice Davidson, Leslie Esdaile, and Susanna Carr, all told around Valentine's Day settings. I've noticed in the last year that the Brava imprint has started doing less books that are strictly erotic romance and more of other things--like mysteries with some heat to them. I hope it's not the permanent plan for the line which I loved when it started. This one has more of a chick lit tone to it, starting with the Davidson story, 'Cuffs and Coffee Breaks'. I'm not a Davidson fan, and the 'heroine' Julie Kay is not at all likeable, so this one didn't convert me. 'A "No Drama" Valentine's' is next, from Esdaile, and this one struck me as a story that needed far more time to develop the characters and their attraction. Finally, 'Valentine Survivor' from Carr has Shanna Murphy hooking up with a former flame unexpectedly. I have to admit, this collection just didn't do it for me, either as a collection of erotic romance, or of mystery. I'm disappointed.

Good Girls Do (Berkley) by Cathie Linz finishes up the month's releases, with librarian Julia Wright and bad boy Luke Maguire in her adopted small hometown--a place he'd hoped never to set eyes on again. This one is cute and light, though Julia is not very nice to Luke early on, which makes one wonder why he'd keep going back for more. Still, it all works out just the way you'd hope, and it won't make you think too hard. It's earned three arrows.

Until next time, happy reading!