Guest Author - Elizabeth Darrach
Whether you're just studying the market or wanting inspiration, these all-stars in the romance industry can teach us all something about writing romances.
Though she's retired, LaVyrle Spencer is still one of the best ever, and her books remain hot sellers.

Hummingbird is a historical with characters who'll make you laugh and cry right along with them, with a heroine who can take care of herself just fine, but when the right hero comes along, she can't help but fall for him.

Spring Fancy is a contemporary with a very believable characters and a story that a reader can easily imagine themselves part of.

Linda Howard is an amazing talent, with a penchant for strong, sexy heroes with a great sense of humor.

MacKenzie's Mountain kicks off her epic series following the MacKenzie men, and Wolf is an unforgettable hero.

Mr. Perfect has another of those great heroes, and is guaranteed to make a reader laugh out loud, not to mention the fantastic suspense plot.

Jennifer Crusie started off hot and is still on a roll, continuing to write laugh-out-loud romances with smart characters, like she does in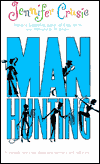 Man Hunting.

And what can I say about Nora Roberts that hasn't already been said? The woman is amazingly prolific, and still manages to keep the quality of her storytelling at an incredible peak.

Dance Upon the Air kicks off one of her many trilogies, this time a paranormal, with a heroine who's not expecting any of the things that happen to her, but who adjusts pretty well to some curveballs.

Naked in Death is the lead-off in her 'In Death' series, with a hero and heroine who continue to grow some twenty books later.

Northern Lights is a lot different from most of her romances, in that this one is told more from the hero's point of view than the heroine's, but the suspense is taut and incredibly well-constructed.