Project Information: • Skill level: Basic • CorelR JascR Paint ShopTM ProR 8 • General tips

Welcome to the new Paint Shop Pro version 8. Jasc's popular photo and imaging program Paint Shop Pro has been redesigned. This latest version of Paint Shop Pro was released in May. So let's take a look at what's new.

One of the first things you will notice when you open the program will be the new user interface. It has been redesigned to be even more user friendly than in the previous versions and the workspace can be customized further for your individual needs. One major customizable feature that has been added is scripting. Various steps that you do repeatedly can be combined into "one step" with this new scripting feature.


The Tools Toolbar (Figure 1) has been changed. Related tools have been grouped together under one icon. When the down-arrow for a group is clicked, a flyout appears showing all the tools in the group. For example, all of the selection tools (Selection, Freehand Selection, and Magic Wand) are grouped together on the selection flyout. When one of these three selection tools is clicked, that tool becomes the active tool.


Figure 1.




You will also see the new Learning Center Palette (Figure 2). Here you will find links to Quick Guides for the most used tasks.


Figure 2.




Another feature that Jasc has added to get you started quickly is the Product Tour. (Figure 3) This is a group of animated demos (movies) that show how to use the new and renewed tools. The Product Tour can be reached from Help > Product Tour. Also individual demos can be reached from within the Help File.


Figure 3.




Speaking of tools, Jasc has added several new tools and effects. My personal favorite is the new Background Eraser Tool. It works like the regular Eraser Tool but it removes only the background from an image and leaves the foreground image intact. It can also be used to remove only one color from the background. Before version 8, this was achieved with plug-ins. As you can see in Figure 4, I have removed all of the buildings from the background.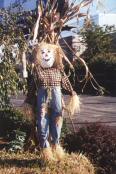 Figure 4.



Finally the print feature has been greatly improved. Jasc has added preset templates and layouts that correspond to standard print sizes and also with some AveryR print products. (Figure 5) After choosing a template, you can drag your image(s) onto the template and make any final placement adjustments.

Figure 5.


Have I convinced you that the new Paint Shop Pro 8 is a "must have". If so there is a free trial download available on the www.jasc.com website and the upgrade price is, as always, quite reasonable.



JascR material used by permission of Jasc Software, Inc. Copyright ©1997-2000 Jasc Software, Inc. All Rights Reserved. Paint Shop Pro, Animation Shop, Paint Shop Photo Album, Paint Shop Pro Studio and Jasc are registered trademarks of Jasc Software, Inc.