DINNER PLATE HIBISCUS - Rate My Flower Photo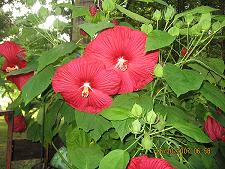 Title: DINNER PLATE HIBISCUS
By: JOSE - All Photos by JOSE

THIS EXQUISITE BLOOM IS A HARDY HIBISCUS WHICH HAS DINNER PLATE SIZE BLOOMS; THE PLANT IS IN A LARGE WHISKEY BARREL PLANTER AND IS ABOUT FOUR YEARS OLD; EACH YEAR THE BUDS AND BLOOMS GET LARGER WITH MORE BLOOMS EACH YEAR ON THE PLANT. THE PLANTER SITS IN THE CORNER OF MY BACKYARD DECK.


Photos are shown in date order, with the most recently loaded shown first.
Top 10 Photos in Flower Category
Flower Photo Listing
Rate My Photo Master Category Listing