What A Long Day! - Rate My Cat Photo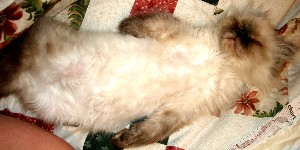 Title: What A Long Day!
By: Certy - All Photos by Certy

Meet our baby Bruno. He is 3 months old, and is a Persian Blue Seal Point. I still can't get over what a mellow little guy he is. What a joy he is to have in our family.


Photos are shown in date order, with the most recently loaded shown first.
Top 10 Photos in Cat Category
Cat Photo Listing
Rate My Photo Master Category Listing