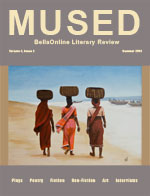 Masthead
Lisa Shea, Senior Poetry Editor

Lisa Shea has been writing epic stories, creating poetry (especially haiku), snapping photos, and drawing landscapes since she was very young. She feels very strongly that there is a creative energy within each and every one of us. She is thrilled to have found a way to help promote the works of talented individuals around the world. In addition to owning BellaOnline, Lisa is the editor for BellaOnline's low carb and video gaming sites. In the print world, Lisa is the author of a series of books on wedding and courtship traditions in Ireland, Italy, France and other cultures.


Diane Cipollo, Art Director

Diane Cipollo started as a traditional pen and ink artist in the greeting card industry and won third place in the Decorative Artist's Workbook 1998 Holiday Card Contest. She has always been fascinated by animated movies such as Disney's Fantasia and turned in her traditional pen and ink for digital pixels several years ago when digital art and animation software arrived on the scene. She has been with BellaOnline since 2003 as editor for the HTML, PHP, Flash and Digital Art and Design sections.


Kim Kenney

Kim Kenney is the author of three books with Arcadia Publishing, Canton: A Journey Through Time, Canton´s West Lawn Cemetery, and Canton´s Pioneers in Flight. She has also published an exhibition review in The Public Historian, the journal of the National Council for Public History. Her work has appeared in Mused, The Boston Globe, The Repository, and the Amazon Shorts program. She serves as editor of the Museums website at BellaOnline.com, where she has authored several ebooks. She is a freelance writer with Demand Studios, where she focuses on history, automobile, food, and culture articles. Her hobbies include cooking, travel, reading, counted cross stitch, and photography.


Melissa Knoblett-Aman, Senior Fiction Editor

Melissa Knoblett-Aman is a freelance writer who holds a degree in English with a concentration in Writing and Editing from Western Carolina University. She has loved all forms of writing, be it fiction, poetry or non-fiction, ever since she can remember. In addition to serving as Senior Fiction Editor for Mused, she is BellaOnline´s editor for Catholicism and Cats. Melissa also writes content for Squidoo and has been published in a variety of print media. Her Squidoo page can be found at http://www.squidoo.com/lensmasters/melryn. Melissa also enjoys digital photography, playing with her cats and traveling.


Brandii Lacey, Senior Play Editor

Brandii Lacey's writing career started at a small town newspaper in Boone, North Carolina. She reported on local events, politics, people, and schools. After a move to Philadelphia, PA, she began website design. For the next five years, she developed and managed a nonprofit website. Brandii became the editor of BellaOnline's Cooking for Kids site in 2007. She loves creating recipes and meal plans for families. In addition, she also enjoys talking with readers about cooking tips, money saving recipes, and the reality of cooking for kids. She currently resides in Charlotte, North Carolina with her husband and ever so curious golden retriever.


Cynthia Parker

Cynthia Parker is the editor of the Single Parents column on BellaOnline, the single mother of two wonderful daughters, a full-time employee and part-time student at a local university, and an avid writer. She enjoys writing poetry, fiction and creative non-fiction.


Vannie Ryanes

Vannie Ryanes is a writer and home business owner/coach. Additionally, she is a book reviewer; she was a final manuscript reader for "Chicken Soup for the African American Soul." Vannie moderates an online home business forum and owns an online community group for authors, writers and readers of African American and multicultural romance novels. She joined BellaOnline.com in 2004 and is the editor of Work & Family and Hot & Spicy [food]. While working at a health sciences university Vannie received two awards from the university president for outstanding service and exceptional dedication and an award from the university's Board of Concerned Citizens for service, dedication and work of excellence rendered. She also received a certificate of appreciation from the Essex County Friend/Advocate Program for 15 years of volunteer service. She continues to give back by serving on civic groups in her town. To relax Vannie reads, cooks, or watches classic films.


Erika Lyn Smith, Senior Non-Fiction Editor

Erika Lyn Smith is Mused´s Senior Nonfiction Editor and the Editor for both the Attention Deficit Disorder and Missing Exploited Children websites at BellaOnline. Erika has previously written for The Bereaved Parent U.S.A. (Saint Louis Infant and Toddler Loss Column), Suite101, and BellaOnline's Crime Website. Currently, Erika Lyn Smith works as a Registered Nurse, in Psychiatry. Erika is a passionate digital photographer and artist. Her photography and artwork is available at www.ErikaLynSmith.net. She is especially fond of angels, butterflies, ducks, heffalumps and whistle pigs. Erika's favorite place in the whole world to be is home with her kindred spirit and husband, Wes, her two awesome Earth Angels, six parrots, and Abi-normal the fence-climbing beagle. Erika Lyn Smith can be contacted through her website.


Kevin Thorburn

Kevin Thorburn is a freelance writer based in Halifax, Nova Scotia with his cat, Ziggy. His passions include writing, music, art, animals, sports, health and many collections including coins, sport cards, autographs and cheques. He admires honesty and intelligence and anyone who is going after their dreams. Kevin is the Ice Hockey Editor at BellaOnline.com.


Dianne Walker

Dianne Walker is a full time Human Resources Manager for the Prince William Public Library system. She spends her free time as a free lance writer focusing on providing job search and career guidance. In addition to offering career advice on Bella Online, she also writes two local columns on job search and careers for the DC Examiner.com. Dianne is passionate about providing the training and skills necessary to help individuals succeed in their careers.


Julia Reed Zaic

Julia is a practicing lawyer in Laguna Beach, CA. She enjoys sailing, SCUBA diving, and is the Business Travel Editor for Bella Online. Originally from Florida, Julia lives in California with her husband and stepsons and serves as a member of the President´s Advisory Council for the National Wildlife Federation, a leading organization in conservation. She would like to start a movement to change courtroom dresscodes to include flip-flops and bermudas. The effort has not been successful...yet!


Jill Florio, Founding Editor

Jill Florio was the Art Editor for Flagstaff Live, Staff Reporter & Photographer for the Prescott Valley Tribune, and contributed variously as reporter, photographer and columnist to the Prescott Art Rag, Prescott Daily Courier, the Arizona Republic, Sweat Magazine, AP News, Suite101.com, Travelwise Magazine, Mountain Living Magazine, the Richmond Times-Dispatch, Serving Arizona, the Raven Review and Active.com. She is the Editor for the 4th Edition of Arizona Off the Beaten Path, published by Globe Pequot Books. She has had poetry, art and short stories published in both recent and forgotten venues from as early as the 4th grade. Jill also writes for BellaOnline for the topics of Blogs & Social Networking. Jill is the Community Manager for BellaOnline overall, where she insists on using The Force as an alternative to pecking at her keyboard all day.


Summer Solstice 2010 Table of Contents | Send Us Feedback!